Los Angeles to vote for president and condoms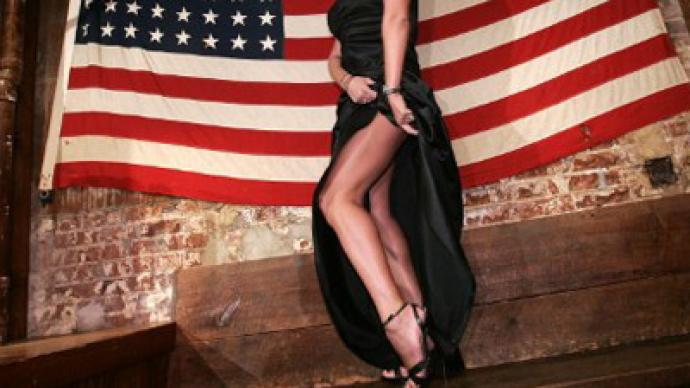 Voters in Los Angeles will get their chance next year to tell the county just how they like their porn — and pending the results in the polls, some adult stars might be forced into changing how they have their sex.
A ballot initiate has qualified to go into voting booths during a presidential primarily election scheduled for June 2012, allowing the people of LA County to decide if porn stars should be mandated to wear condoms in their scenes. Should the law be passed, actors and actresses engaged in explicit acts on film will have to cover up if they want to avoid hefty penalties. But the approval of the legislation would also cause the industry to undergo not just new regulations, but to mandate how couples appearing on film have consensual sex.
Advocates in favor of the law say that it is a necessary precaution to prevent the spread of HIV, AIDS and sexually transmitted diseases in the community, although regulations are currently in place to insure that all actors and actresses are tested regularly for infections. Right now law requires actors to be tested for diseases every 30 days and proof of results must be shown before each shoot. Even with those regulations in place, AIDS Healthcare Foundation President Michael Weinstein tells Reuters that"There are thousands of STDs in this industry."
To Weinstein, lawmakers are avoiding the problem."It's the ick factor," he says. "They don't want to deal with this because it's sex, and because it's porn." For the industry, its actors and the county of Los Angeles, however, it is much more than that. Not only would legislation regulate consensual sex, but it could cause films to stray from the style established as an industry standard and could cause studios to spurt underground operations to avoid penalties.
"The subject of condoms has always been an issue within our community; companies would rather not shoot scenes with condoms because they always see a decline in sales when they do," writes Mr. Marcus in his book The Porn Star Guide to Great Sex. At 41 years old, Marcus is a seasoned veteran of the industry and has acted in more than 1,500 films over the span of 16 years. If anyone would know the sex biz it's him, and he doesn't think condoms fully have their place in porn. "It seems most people don't want condoms in their porn movies. I think it's because porn is fantasy, and when people fantasize about fucking they're not thinking about condoms," he adds."After much debate, some companies that were condoms-only have now taken the stance of condom-optional."
Pending next year's vote, however, all of the Los Angeles County studios that produce adult films could have to reverse that option. If Marcus' hypothesis is right, the effects could be detrimental to the state's already floundering economy. The adult film industry generates upwards of $14 billion annually, reports Forbes, and it is estimated that 90 percent of America's erotic movies are made in Los Angele's San Fernando Valley.
"If only passed in Cali, it won't work 'cause [people] can film elsewhere or just say it was filmed elsewhere," remarks actor Richard Mann to RT. Mann, the star of such flicks as Big Cock Chronicles 3: Fucked Senseless by Richard Mann and Black Cock Face Fuckers adds that, to him, "It's a stupid idea."
Even if the insiders feel one way, they will have a tough fight come Election Day. Advocates for the law managed to nearly double the amount of signatures needed to land the bill in voting booths, and the foundation's Weinstein adds to Reuters, "We're confident about our ability to win an initiative in an election."
"We say, why continue to frustrate ourselves trying to get the politicians to stand up and do something when the people seem to be ahead of them?"asks Weinstein; his cohort, Foundation Spokesman Ged Kenslea feels similarly and adds to the Los Angeles Times, "We believe we're going to prevail in court and look forward to taking this issue directly to the voters."
As testimonials suggest, however, the AIDS Healthcare Foundation doesn't know dick about the porn community.
Outside of the industry, some opponents see that the act would be a blow to the biz as well."History has shown us that regulating sexual behavior between consenting adults does not work,"Diane Duke of the Free Speech Coalition tells Reuters."The proposed regulation would likely diminish existing protocols and force adult companies out of the city, out of state or underground making it ultimately much less safe for performers,"she adds.
The regulation would also force actors to examine their own civil liberties after having the government tell them how they must treat their bodies. Inside the establishment, LA City Attorney Carmen Trutanich has come after the proposed legislation, but not for its attack on personal liberties. According to Trutanich, allowing the city of Los Angeles to enforce the law would trump state legislation, an impossibility, he says. Earlier this year, a mandate to outlaw circumcision up the state in San Francisco was mixed over the same circumstances after officials ruled that such laws couldn't preempt state power.
Under current regulations that insist on voluntary testing, the porn industry has seen its share of outbreaks in diseases though the number is small given the amount of product produced and those involved. A scare earlier in 2011 caused for a momentary halt in mainstream production after an actor was thought to be HIV-positive. After that incident, AIDS Healthcare Foundation's Weinstein called the workings of the industry ripe with"outrageous disregard for the health and safety of performers and the community at large."
Insiders in the industry feel otherwise, though."There is no way to make the industry risk-free. Making things safer does not make it safe,"actor Jeremy Steele told a California courtroom during a 2011 hearing. "If you're worried or paranoid, you should not be in this industry,"added Steele.
"As someone who is still working on the camera myself, I don't feel any safer with condoms,"actress Nina Hartley echoed at the same hearing in Los Angeles.
"I'm not for people forcing us to wear condoms; [that's] what the tests are for,"Richard Mann adds to RT."People will not want to see people fuck with condoms. At least that's what I think."