​US failed to pay bounty for Colombian drug king capture, says informant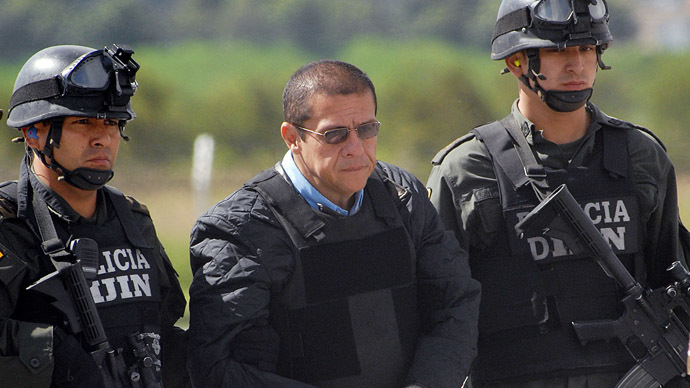 Despite a $5 million reward being offered to information leading to the capture of Colombia's most powerful drug lord, the US has still not fronted the money it offered for information on what was their second 'most wanted' criminal, media report.
The offer of millions was a key factor in Diego León Montoya Sánchez's ('Don Diego') eventual capture in 2004, with the bounty rousing his suspicions and forcing him to consider all of his closest friends and allies to be potential suspects.
"He started having people who knew things killed off. And if anyone knew things about Diego it was me," a man going by the name of 'Tito' – a member of Diego's 'inner circle' told the Guardian. After Diego saw the money offered, he told Tito that 'things are going to get hairy'.
Tito turned in Diego after three years of helping an increasingly distrustful Diego evade authorities. He still goes by his drug trade alias to be identified in the media.
He was captured in September 2007 after Tito met with agents and claimed he could locate Diego within 30 days. Diego was sentenced to 45 years in prison in 2009. However, Tito has not yet seen a cent of the reward which was offered for a man who was so highly sought by the FBI, that only Osama Bin Laden was higher than him on their 'most wanted' wanted list.
"I risked my life giving them information and the government has been jerking me around about the reward," Tito told the Guardian. "Once they have what they want, we snitches become dispensable."
There is fear that the failure of the US to follow through with their promises will hinder the effectiveness of offering bounties – an extremely useful tool in the US 'war on drugs'. The US Department of State is currently spearheading a Narcotics Rewards Program which in total offers rewards of some $185m for 41 suspects worldwide.
Sinaloa cartel leader, Joaquín 'El Chapo' Guzmán, who was captured on Saturday after evading Mexican authorities for 13 years, had a $5 million reward on his head too.
"At some point these promises stop working if the government is no longer perceived as reliable by people who might give information," Alexandra Natapoff, an author and law professor at Loyola Law School told the paper.
Since Tito was promised the reward he has been living in the US, working as a laundry repair man. One of his vans was repossessed because he could no longer afford the monthly payments of $306, and he and his wife were forced to pawn their wedding rings.
"Tito was good to his word," said Romedio Viola, a retired agent with the US immigration and customs enforcement agency (ICE). "The US government hasn't been."
Officials maintain that they have never failed to payout, However, they do not disclose the procedures for how funding is allocated, the speed at which it is handed out, or why cases such as Tito's could drag on for several years.
A further informant – described only as 'John' – told the paper he has been waiting some seven years for a $1.7m reward which he 'earned' for his help in the capture of a Norte del Valle cartel member, Orlando Sabogal Zuluaga, arrested in 2006. John filed a lawsuit in 2012, which was dismissed on the ground the offer does "confer any substantive or procedural rights … on individuals who furnish information to law enforcement agencies," said the department, adding that the time frame for payments was not obligatory, and that individuals had no right to challenge the process.
Given the risks taken, many informants are in hiding in fear of their lives.
Tito now says that he would not have turned in Diego. "They wouldn't have caught him," he said. "He would probably have been killed by one of the other bosses."
You can share this story on social media: