Cyber war leads to capture of CIA spy in Iran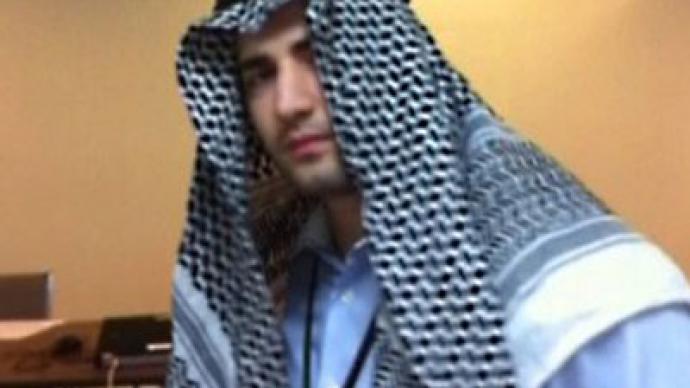 The budding cyber war between America and Iran could be quickly transcending off of computer networks and into the real world, with the US allegedly putting boots on the ground. Iranian state television is reporting that they've captured a CIA spy.
Overseas media reported over the weekend that Amir Mirza Hekmati, a 20-something American man of Iranian heritage, was abducted by Iranian forces, to whom he confessed that he has been in cahoots with the Central Intelligence Agency. According to a taped confession offered up by Hekmati, the spy was apprehended by Iranian intelligence after being dispatched into the country from a US base in neighboring Afghanistan. The spy says he had been working out of Bagram near the country's border with Iran in preparation for a CIA-led mission that has been years in the making, but despite assurance from American authorities that his cover would not be blown, Iranian intelligence intercepted him and is now holding him captive.As RT reported last week, Israeli news agency Debka is suggesting that Iranian intelligence has managed to not just crack into the computer networks of at least one American spy drone but also CIA headquarters in Langley, Virginia outside of Washington DC. Following the downing of a top-secret RQ-170 Sentinel stealth drone aircraft over Iran earlier this month, military officials speaking under condition of anonymity to Debka say that such a take-down could only have been conducted by infiltrating the command center inside the actual CIA compound. Insiders suggest that it would take the exact coordinates and times of the dispatched drone for Iranian intelligence to hijack the craft, which went down on December 4. With Hekmati now being apprehended after a decade of briefing by way of the Department of Defense, it only further establishes that Iran has indeed infiltrated the American intelligence community, causing concern for all involved that the cyber war between nations is quickly escalating to a battle involving not just robotic planes but soldiers, spies and international, undercover attacks. The abduction of Hekmati comes amid weeks of worsening tensions between Tehran and Washington, intensified by Iran's recovery of a top-secret RQ-170 Sentinel stealth drone aircraft on December 4. Since acquiring the spy plane, Iran has claimed that they have decoded the high-tech American technology, much to the chagrin of the Obama administration. The president has asked Iran to return the craft, which was in turn met with mocking from overseas authorities and chastising of America's security by right-wing opponents of the presidents. As escalating tensions between the countries coming to a boiling point, Republican Party hopefuls in the US discussed in depth the need to attack Iran during last week's televised GOP debate.Now it looks as if an attack was indeed in the works, with the CIA not just attempting to infiltrate the computer networks of Iran, but sending spies overseas to actually enter the intelligence community on foot. According to a confession aired by Iranian television, the CIA hoped to have Hekmati provide Iranian intelligence agencies with falsified American information in hopes of gaining their trust, only to in turn infiltrate their community and report back to the US."It was their (the US Central Intelligence Agency's) plan to first burn some useful information, give it to them (the Iranians) and let Iran's Intelligence Ministry think that this is good material," he says.Hekmati says in a taped confession that, upon graduating from high school in 2001, he joined the US Army and received training from military intelligence officials. "I was then sent to a particular university to learn Middle Eastern languages besides intelligence trainings. They told me they were willing to send me to a university to learn Arabic language when they found I was somehow familiar with Farsi and Arabic," he says in his confession. "I arrived in Iraq's soil as an intelligence commentator as wearing military uniform. My main commission was identification of Iraqi officials."The soldier also insists that he received training by way of Defense Advanced Research Projects Agency (DARPA), the US Department of Defense's high-tech contractor that develops some of the Pentagon's most prestigious programs. Hekmati says he worked for them from 2005 through 2007, at which point he was recruited by Kuma Games Company, a developer of computer programs that he says was used to create CIA-favored propaganda. Hekmati says that Kuma received funding from the CIA "to design and make special films and computer games to change the public opinion's mindset in the Middle East and distribute them among Middle East residents free of charge.""The goal of Kuma Games was to convince the people of the world and Iraq that what the US does in Iraq and other countries is good and acceptable," Hekmati adds.Following his tenure with DARPA and Kuma, the spy says he began training for a top-secret CIA mission that ended with his recent capture by Iranian officials. Both BAE Systems and the CIA contacted him and recruited him for the mission, which involved him going to Washington for a briefing and then being dispatched to Afghanistan, where he worked out of a base, traveling from there into Iraq, Iran and United Arab Emirates as part of his mission."I was given access to the most secret data systems for gathering the required information before being sent to US Bagram Base in Afghanistan," he adds. Hekmati says that a CIA agent that worked alongside him assured him that "the cover-up provided for me I would not face any problem in the way of conducting my mission."Upon arriving in Bagram, however, Iran became aware of his intensions and in recent days apprehended him after he crossed over the border. If the spy's confession is true, that would mean that Iranian intelligence has abducted both an American aircraft and American citizen this month. With Debka reporting last week that Iran could have infiltrated the CIA's headquarters outside of Washington, it would not come as a surprise that the cyber war in the works has some gone off the Internet and into the real world. In their report last week, Debka claims that the downing of the Sentinel drone earlier this month could not have been caused by just a hijacking of the plane's internal computer system, but most likely resulted from an attack within the command center at CIA headquarters in Langley, Virginia.US Defense Secretary Leon Panetta has insisted that the DoD will "absolutely" continue its drone missions over Iran, but the abduction of Hekmati adds up to the third strike against the States in just as many weeks. If American decides to continue this game, it is going to take a serious curveball to derail Iran from their intelligence operation against the United States which has proved in recent weeks that it without a doubt could ravage America's defense, drones and all.
You can share this story on social media: