Policy U-turn? Secretary of Defense nominee ups war rhetoric against Iran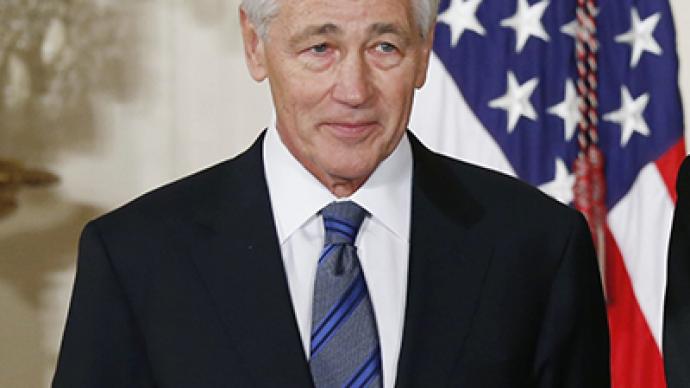 Obama's nominee for secretary of defense told Congress he will ensure the US can strike Iran, if necessary. Former Senator Chuck Hagel, who was criticized for his dovish stance on Iran, has made an apparent U-turn by saber-rattling towards Tehran.
Hagel addressed Congress ahead of his confirmation hearing on Thursday, stressing that although there is "time and space" for negotiation with Iran, "the window is closing" on a diplomatic solution."If confirmed, I will focus intently on ensuring that [the] US military is in fact prepared for any contingency," Hagel said in a write-up of questions and answers for the confirmation hearing obtained by Reuters. He also wrote that Iran needs to show signs that it is ready to negotiate seriously: "If Iran continues to flout its international obligations, it should continue to face severe and growing consequences." However, Hagel warned that the US must be "cautious and certain" before taking action. Hagel also outlined his "unshakable" commitment to maintaining the longstanding US alliance with Israel. Previously, Hagel was an outspoken critic of what he called the "Jewish lobby" in Washington, which he deemed the main barrier to a two-state solution for Israel and Palestine.He has also questioned the efficacy of sanctions on Iran meant to curb Tehran's nuclear program, arguing that sanctions enacted alongside international partners would be more effective.Hagel's stance on Iran had previously drawn criticism from Republicans in Washington, who regarded his position as too soft.Hagel's about-face on his Iran policy has prompted some confusion in Washington over his outlook on the Middle East. "There's a lot of misleading information out there about the senator's views on Middle East policy. Senators are going to want to hear from Chuck Hagel directly on what his view is and what is the administration's view," said Mark Jacobson, a senior fellow at the German Marshall Fund and a former staffer on the Senate Armed Services Committee.
As expected, Hagel was grilled by Republicans over his past remarks on American policies in the Middle East. John McCain pressed hardest, demanding that Hagel gave a direct answer on whether he was "right or wrong" about opposing the 2007 Iraq "surge." "I would defer to the judgment of history to sort that out," Hagel said as he complained that his vote was being taken out of context. The answer did not impress McCain, who immediately pronounced that Hagel was "on the wrong side of it."McCain's fellow Republican Deb Fischer went on to say that Hagel continued to hold "extreme views, far to the left even of this administration."Defending his record, Hagel said he's always believed in the need for a strong American military presence in the world and the use of "all tools of American power" for protecting US interests.Hagel also confirmed his support for Obama's policy, which he said was "one of prevention, and not one of containment."The defense secretary nominee assured he always supported multilateral sanctions, and believed that Iran was a state sponsor of terrorism.
Last year, President Obama repeatedly urged Israeli Prime Minister Netanyahu to desist in his calls for a military strike against Iran's nuclear facilities.Obama stressed that the financial sanctions on Tehran were a preferred method to curb Iran's nuclear ambitions. However, he did note that no options would be taken off the table to prevent Tehran from acquiring a nuclear weapon.RT's Gayane Chichakyan suggested that the nomination of Hagel might be a way of toning down the war rhetoric in Washington. However, the possibility of a less aggressive strategy has angered some in Washington."Since the beginning of the attack campaign against Chuck Hagel over these two months or so, many of the attackers have withdrawn their objections," said Chichakyan, suggesting that maybe they received confirmation behind closed doors that Hagel would not do anything drastic upon assuming the post of secretary of defense.
You can share this story on social media: