Christmas arrives early in Gaza Strip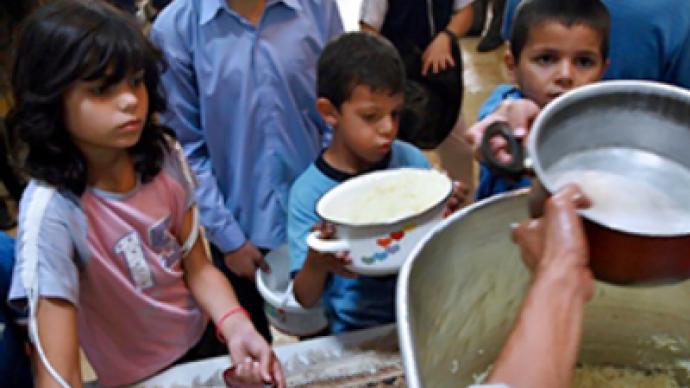 In response to a global outcry following Israel's deadly clash with a humanitarian aid ship, Israel has said it would relax restrictions on products allowed into Gaza.
Following a two-day special session of Israel's Security Council, the government of Prime Minister Benjamin Netanyahu on Thursday announced it would allow more goods into Hamas-ruled Gaza, which is struggling to restore a sense of normality following a devastating three-week winter war with Israel (2008-2009).
"It was agreed to liberalize the system by which civilian goods enter Gaza [and] expand the inflow of materials for civilian projects that are under international supervision," read a statement released by the government of Prime Minister Benjamin Netanyahu after the meeting.
The Israeli-approved product list will include "all food items, toys, stationery, kitchen utensils, mattresses and towels," as Haaretz, the Israeli daily, quoted Raed Fattouh, the Palestinian co-ordinator of supplies to Gaza, as saying.
Israeli officials added that they want the international community to work toward the immediate release of Gilad Shalit, an Israeli soldier captured by Hamas fighters on the Israeli-Gaza border in 2006.
"International pre-occupation" with Israel
The decision to relax the land embargo comes a little over two weeks since Israeli forces engaged a humanitarian aid ship Mavi Marmara headed for Gaza. The highly publicized confrontation left nine pro-Palestinian Turkish citizens dead and Israel on the defensive against claims that it used excessive force against the crew members of the flotilla.
The Turkish ship was part of a six-vessel aid flotilla sailing to Gaza with the intent purpose of breaking an Israeli naval blockade that has deprived the coastal zone of a long list of vital goods since the embargo went into effect in 2006.
Israel responded that its commandos acted in self defense against the occupants of the aid ship, who allegedly brandished knives and metal pipes as the Israeli soldiers attempted to board the ship by helicopter.
Israel has rejected UN demands for an international inquiry, saying it would launch its own internal investigation with the oversight of two foreign observers.
The EU says it will reserve judgment on the probe into the deadly raid on the aid flotilla.
EU foreign policy chief, Catherine Ashton, told European lawmakers on Wednesday that Israel's naval operation, in which nine activists were shot dead, was "unacceptable."

Ashton described Israel's decision to set up an independent investigative commission as a "step forward." But she noted the EU will chart the progress of the panel "before drawing further conclusions."
By far the worst political fallout stemming from the flotilla incident involves political and economic relations between Israel and Turkey, which will carry a heavy price tag.
According to Turkish media, Ankara has frozen billions of dollars worth of defense agreements with Israel. Some of the scrapped projects include a $5 billion deal in which Turkey was to receive 1,000 Israeli-made Merkava Mark III tanks, a $50 million program to upgrade Turkish M-60 tanks, and an $800-million deal to purchase two Israeli patrol aircraft and an Airborne Warning and Control System aircraft.
Turkey said Thursday it may not send its ambassador back to Israel unless it receives an apology for the death of nine Turkish crewmembers aboard the Gaza-bound aid ship, and other steps are taken to make amends, a government official speaking on condition of anonymity told AP.
The official said Turkey's envoy would not return if demands are not met "within a reasonable timeframe."
During the Security Council meeting, Israeli Defense Minister Ehud Barak called for a "daring and assertive" political initiative to address Israel's deepening international isolation.
"A political initiative will break us out of the isolation and prevent phenomena like the flotillas to the Gaza Strip and international investigations," Barak told the council.
Whether Barak's proposal for a different political tact will open the way for a Palestinian peace plan remains to be seen. But if ever there was a time for a big breakthrough on that front, this appears to be it.
Israel's naval embargo, other restrictions to remain
Israeli media reported that a long list of construction materials, including cement and steel (which Israel believes may be used to rebuild military installations), will continue to be barred from entering the coastal zone. Critics of the construction ban say without such items it is impossible for the 1.4 million residents of Gaza to rebuild.
Israel's decision to partially lift the embargo does not seem to affect Israel's naval blockade of Gaza that has been in place since 2007 after Hamas took control of the tiny enclave (about twice the size of Washington, DC), which is wedged between Israel, Egypt and the Mediterranean Sea.
The security cabinet, which began its discussions to ease the embargo on Wednesday, noted that "existing security procedures to prevent the inflow of weapons and war material" would continue.
A spokesman for Hamas was quoted by Haaretz as calling the Israeli measures "media propaganda," and the goods that Israel is allowing into the coastal strip as "trivial and secondary."
"What is needed is a complete lifting of the blockade. Goods and people must be free to enter and leave. Gaza especially needs construction materials, which must be allowed to come in without restrictions," said Hamas spokesman Sami Abu Zuhri.
You can share this story on social media: