Children of soldiers suffering with mental health problems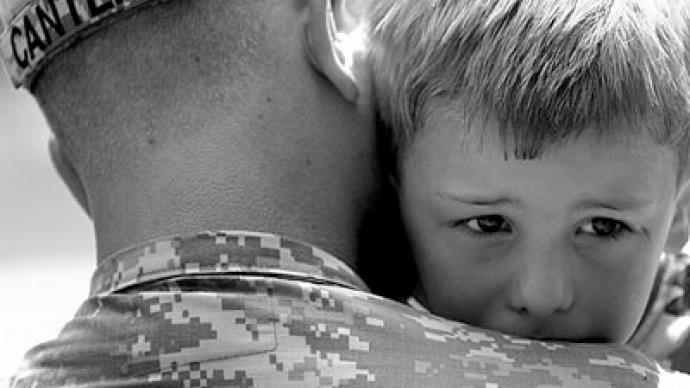 When it comes to waging war for the US military, many soldiers might feel that the longer the tour, the tougher the toll. Now a study shows that that might be exactly the case for the sons and daughters of active servicemen too.
Researchers from the University of North Carolina are now saying that the longer a military parent spends deployed overseas, the more likely their children will exhibit behavioral problems.
Verbatim, the study concludes, "Children of parents who spent more time deployed between 2003 and 2006 fared worse than children whose parents were deployed for a shorter duration."
That comes after the medical records of over 300,000 children between the ages of 5 and 17 were analyzed at UNC, all of whom had parents deployed at one time or another.
The findings were initially published in the July 4 edition of the Archives of Pediatrics and Adolescent Medicine, where Alyssa J. Mansfield writes, "Similar to findings among military spouses, prolonged deployment appears to be taking a mental health toll on children."
Of the 562,000 men and women in active duty in 2010, they have more than 570,000 children.
The research shows that the children of soldiers that went to war in the US operations in Iraq and Afghanistan were especially more likely to show behavioral disorders than others, also noting that depression and stress disorders are also more apparent in that demographic than with children whose parents were never on enemy lines. Almost 17 percent of the children of servicemen who served were diagnosed with a mental healthy disorder, the study shows.
"We used to think about deployment as a single experience: I go, I'm away, it's difficult and then I come back," says psychiatry professor Dr. Stephen Cozza in the study. He adds that times have changed, however, and that the consequences of war can cause complications for servicemen and children alike, even years after one's time in the military has come to a close.
"These are consequences that aren't necessarily short-term . . . It's a way of life in the military that deployments continue to occur and families have to manage the consequences," says Cozza.
Of the more than half a million men and women enlisted in the US Army, almost two-thirds of active soldiers are married and around 15 percent are single parents.