Chevron refuses to pay $8.6 billion for Amazon pollution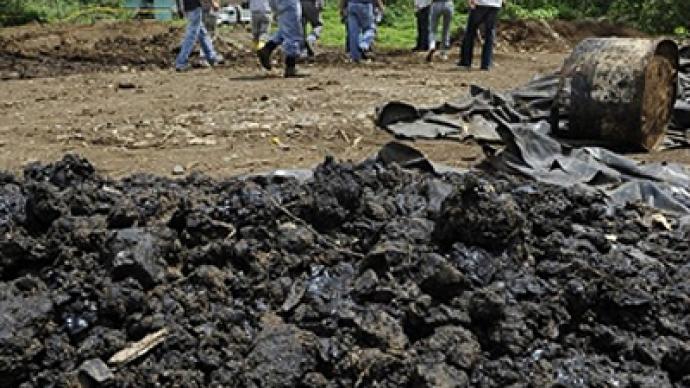 An Ecuadorian court has ordered Chevron to pay $8.6 billion in reparations to the victims of oil pollution in a remote rainforest. Chevron refuses to pay and a New York has preemptively blocking any financial judgment against the company.
The legal dispute has gone on for 17-years. Amazonian villagers and Chevron have been at odds in the Ecuadorian courts, only to be blocked by Judge Lewis Kaplan in the United States.The US judge has ordered that no financial judgment against Chevron may collect Chevron's assets because it might interfere with the company's daily workflow and impact the global economy. Ecuadorian courts acting on their jurisdiction in Ecuador regarding an even that took place within their own rainforests have ordered Chevron to pay $8.6 billion anyway. Investigative journalist Greg Palast said in the instance of the BP oil spill in the Gulf of Mexico, Obama demanded the company pay up to solve the problem. However, BP is a British corporation and the spill impacted American waters and coastlines directly. "The question is will President Obama apply the same standards to an American corporation as he has to a British corporation," Palast said. "We're waiting to see."Palast explained the damage in the Amazon is far worse than the BP spill, and it routinely impacting the lives and health of the people."They impoverished and poised the area," he added. "Chevron went in there, its Texaco unit, and made it poor. It was a pretty clean place before they arrived." Chevron has worked hard to see itself as a positive member of the community; however its actions do not match their message. Brad Johnson, the climate editor at ThinkProgress explained Chevron is a powerful company, given it's ability to garner support from a New York judge to block another nation's courts from collecting reparations. "Chevron is one of the largest oil companies in the world, thus one of the largest companies of all in the world," he said. "$8.6 billion or $9 billion is certainly a large amount of money. But, just in the last quarter Chevron reported nearly $6 billion in profits."He argued the fine could easily be absorbed by Chevron, just as BP has absorbed and recovered from the financial impact of the BP oil spill. The case, just like the BP spill, will play out in legal courts for years to come. Unfortunately, this has become rather standard policy, he explained.
You can share this story on social media: