Manning gives thanks to MLK, Malcolm X in rare prison statement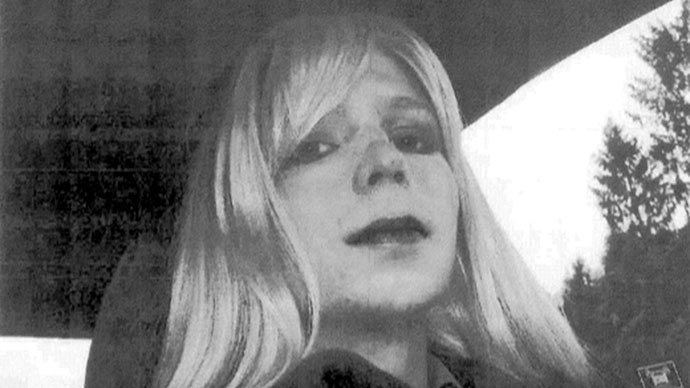 On the eve of her fourth Thanksgiving behind bars — and the first since being sentenced in August to 35 years in prison — Army whistleblower Chelsea Manning says she's thankful for fellow seekers of truth and justice who "dare to ask tough questions."
In one of the few statements made to the public since she was sentenced this summer for crimes related to the unauthorized disclosure of classified information to anti-secrecy website WikiLeaks, Manning tells TIME Magazine that she's hesitant to celebrate Thanksgiving due to the true nature of the sordid relationship between European settlers and Native Americans. Nevertheless, Manning writes from prison that she's thankful for being aware of such atrocities, and this Thanksgiving appreciates the efforts of Americans who "dare to ask probing, even dangerous, questions."
Manning's 431-word statement was published online by TIME on Monday as an installment in a series of editorials provided by public figures who were approached by the magazine and asked to share what they're grateful for. Also included in this year's edition are statements from first lady Michelle Obama, Vice President Joe Biden and baseball star David Ortiz.
In her op-ed, Manning writes she's "perhaps ironically" thankful for knowing the truth about Thanksgiving — that "the Puritans of the Massachusetts Bay Colony systematically terrorized and slaughtered the very same Pequot tribe that assisted the first English refugees to arrive" — but also appreciative of those who are willing to look outside the box for answers and aren't afraid to question official narratives.
"Such people are often nameless and humble, yet no less courageous. Whether carpenters [or] welders; retail clerks or bank managers; artists or lawyers, they dare to ask tough questions, and seek out the truth, even when the answers they find might not be easy to live with," Manning wrote.
"I'm also grateful for having social and human justice pioneers who lead through action, and by example, as opposed to directing or commanding other people to take action," she added. "Often, the achievements of such people transcend political, cultural and generational boundaries. Unfortunately, such remarkable people often risk their reputations, their livelihood and, all too often, even their lives."
Manning goes on to cite the efforts of Malcolm X, Martin Luther King and Harvey Milk: three influential Americans who died of assassins' bullets while leading efforts intended to usher in waves of equality across the United States. To Manning, she wrote, these individuals are "remarkable pioneers of social justice and equality" who risked their lives in pursuit of bettering the world. Indeed, that was a sacrifice Manning was willing to make herself, as evident by the three years of pretrial confinement she endured after being captured in May 2010 on suspicion of sharing hundreds of thousands of classified documents with WikiLeaks. At one point, Manning faced the possibility of a death sentence if convicted of the most serious of charges.

In August, Army Col. Denise Lind sentenced the soldier — who was tried under her birth name, Bradley Manning — to 35 years in prison due to multiple convictions of espionage, theft and computer fraud related to the pilfering of government material that was then shared with WikiLeaks.
"I am sorry that my actions hurt people. I'm sorry that they hurt the United States. I am sorry for the unintended consequences of my actions," Manning told the court during trial. "When I made these decisions I believed I was going to help people, not hurt people."
Documents supplied to WikiLeaks by Manning include field reports from the Afghan and Iraq wars, Guantanamo Bay detainee assessment briefs, State Department diplomatic cables and video footage of American gunmen unloading on innocent civilians during a 2007 incident near Baghdad. Manning described those materials in court as being among "the most significant documents of our time," and her contribution with regards to releasing those documents into the public domain have been hailed by the likes of Pentagon Papers whistleblower Daniel Ellsberg, intellectual Noam Chomsky and former presidential candidate Ron Paul.
"It's important that it gets out," Manning said of some of the materials during an online chat before her 2010 arrest. "I feel, for some bizarre reason…it might actually change something."
Manning has been nominated for the Nobel Peace Prize several times since being taken into US custody. One day after being sentenced, attorney David Coombs announced that Manning wishes to identify as female and will be pursuing hormone replacement therapy in prison.
You can share this story on social media: