NY cops break into Marine vet's home and Taser him before shooting him to death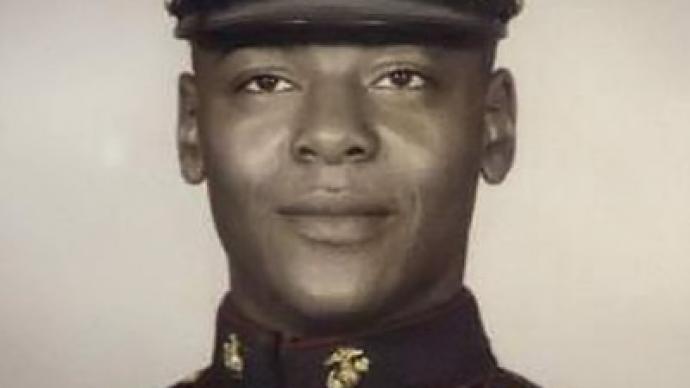 A grand jury is expected to soon hear a case from last year in which an unarmed, 68-year-old retired black military veteran was killed by police officers in New York. Four months later, no one has been charged in the murder.
Kenneth Chamberlain Sr., a former US Marine, was killed on November 19, 2011 after police officers broke down the door of his White Plains, New York apartment. Chamberlain, who suffered from a heart condition, had accidently triggered a medical alert system on his person and then failed to respond to calls for help. Police were dispatched to his apartment, where Chamberlain greeted them by insisting he was okay and ensured them that no one was in any harm. The cops refused to take the vet's word, however, and shot him with a both a Taser stun-gun and non-lethal projectiles, but only after breaking into his home and entering on their own accord.Shortly after being fired at by the responding officers, Chamberlain was transported to an area hospital where he later died.In the four months since Chamberlain's death, outraged opponents of the police department's mishandling have asked for charges against the cops that attacked the veteran. The officers had earlier on insisted that Chamberlain was wielding both a hatchet and a knife when they came to his aid, and attacked him while exercising self defense. New evidence, however, suggests otherwise.According to recently released audio and video recording from the day of the incident, investigators say they have reason to believe that, despite the police officer's insistence, Chamberlain was unarmed during the incident. They are also now under the impression that cops fired at Chamberlain as he stood in his underwear with his hands on his side — and shortly after officers exclaimed racial epithets at the man. During an hour-long standoff in which authorities surrounded Chamberlain's house, the veteran told them that he was okay and that they had no reason to enter his house. A new recording just released now reveals though that one of the officers on the scene told Chamberlain, "I don't give a fuck, nigger — open the door."The Daily Mail adds that another officer is heard on the recording demanding that Chamberlain let him in on account that he needed to use his bathroom. Others allegedly mocked the veteran's military career before removing the door to his house and entering without his permission."The minute they got in the house, they didn't even give him one command," attorney Mayo Bartlett tells the New York Daily News on behalf of the deceased. "They never mentioned 'put your hands up.' They never told him to lay down on the bed. The first thing they did … you could see the Taser light up … and you could see it going directly toward him."Luckily one of those Taser guns used in the kill was equipped with a video camera and authorities now say that the evidence recorded on the device might be enough to prosecute the officers involved. Additionally, a building security camera was able to capture some of the incident. The Daily Mail reports that one of those videos also reveals the metallic object that police suspected to be a weapon. Since authorities now know that Chamberlain was unarmed, being able to see what the officers saw last November could open up a whole other side to the case.Mayo Bartlett tells The Daily White Plains newspaper now that the district attorney's office will present the new evidence to a grand jury which, in turn, could bring charges against the police department. "They may decide to play some of the tapes, to play part of the tapes, to redact the tapes, or not to play any of the tapes. We can't control that and we'll never know," says Bartlett."We believe that the grand jury should be able to fairly come to a conclusion that this is a homicide," the attorney adds. "I would like for the grand jury to be able to consider any and all possible charges that could be found as a result of the conduct of the police."
You can share this story on social media: