​US Supreme Court to rule on warrantless cellphone data searches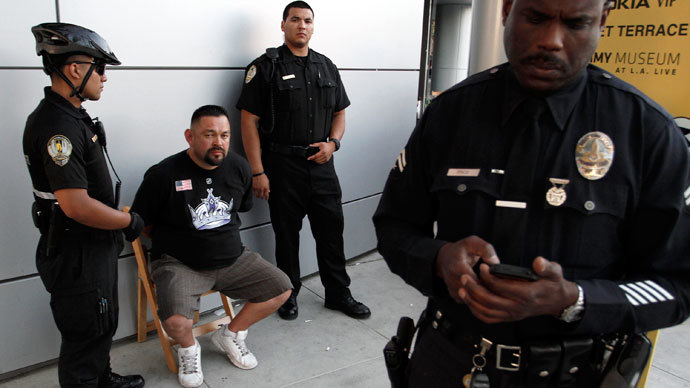 The US Supreme Court has agreed to rule on police authority to search an arrested criminal suspect's cellphone before obtaining a warrant, and whether such an examination violates the suspect's constitutional rights in the age of advanced technology.
Two new cases assumed by the Supreme Court arise from criminal prosecutions that were, at least in part, based on evidence stored on a cellphone taken from a suspect at the time of arrest that law enforcement discovered later on without a search warrant.
The court will consider how an older precedent – which allows police to inspect items carried by a defendant at the time of arrest – applies to cellphones in the age of smart technology that can store an immense amount of personal information and data about the owner.
The precedent that allows for searches at the time of arrest is justified primarily to ensure a suspect is not armed and to secure evidence that could be destroyed.
Justices will weigh whether such a search for data following an arrest violates the suspect's Fourth Amendment rights, which protects from unreasonable search and seizure. The court's decision will guide whether prosecutors in relevant court cases can offer evidence lifted from cellphones.
In the state case - Riley v. California - San Diegan David Riley was convicted on three charges associated with a shooting in August 2009. Riley was not arrested at the time of the shooting, but was later after being stopped for driving with invalid license plates. The cellphone he carried at the time of arrest was twice examined without a warrant. The data on the smartphone tied him to the shooting, and was enough for the jury convict him for shooting at an occupied vehicle, attempted murder and assault with a semi-automatic weapon. He was sentenced to 15 years in prison.
In the other case - US v. Wurie - the federal government is appealing an appeals court decision to throw out two of three drugs and firearms counts on which Bostonian Brima Wurie was convicted by a jury.
After a police officer saw Wurie in what was an apparent drug sale in 2007, officers followed him from the scene and arrested him. Officers found two cellphones upon taking him to a police station, and using data gleaned from them, determined Wurie was dealing drugs. He was convicted of being a felon who had gun and ammunition, distributing crack cocaine and possession of the drug with intent to distribute. His defense failed to block the use of evidence from his cellphone. He was convicted on all charges, receiving 22 years in prison.
The US Circuit Court of Appeals for the First Circuit ruled in May that officers could not search Wurie's phone without a warrant after his arrest.
Wurie's case does not involve a smartphone like Riley's, but rather a more-old-fashioned, less-capable flip-phone.
The Supreme Court is to hear oral arguments on the cases in April and offer rulings by the end of June.
You can share this story on social media: