Cop caught masturbating in patrol car while on the job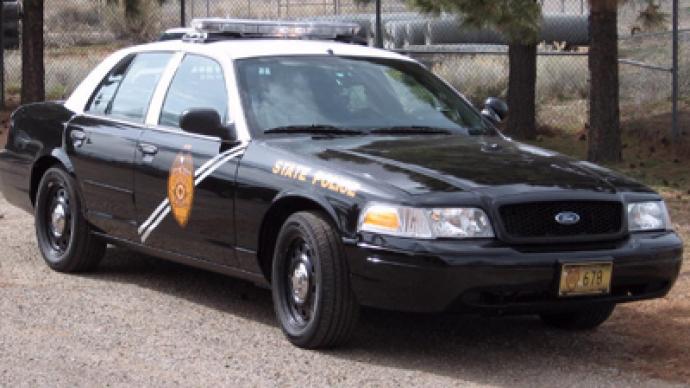 After scouring 10 hours of footage recorded from the dash camera of a cop cruiser, authorities in Santa Fe, NM found what they were looking for. There on tape was Sgt. Mike Eiskant, and to say he was caught red-handed could never be more appropriate.
The now former-Sgt. Eiskant has resigned from his position with the Santa Fe Police Department and has signed a statement saying he will never, ever serve again as an officer of the law. But when you make national headlines after being caught on film in broad daylight masturbating in your own cop car while on the job — well, the odds of landing another job in law enforcement aren't particularly in your favor anyway.Eiskant pleaded no contest last week for a plethora of charges which include two counts of attempt to commit a felony, one count of stalking, two counts of harassment, larceny and possession of marijuana. Admitting to guilt to any of those charges would land an officer of the law in hot water, but the real slip up seems to be stemming from an investigation conducted by a local news network that ended with tape recorded evidence of Eiskant masturbating in the front seat of his patrol car.Santa Fe's KOB News says they spent over a month requesting and reviewing dash cam videos from Sgt. Eiskant's patrol car, which eventually paid off for a team of investigative journalists that got more than they expected. KOB describes the footage as containing what sounds like a zipper being manipulated and audible moans by way of the officer. The footage reveals that Eiskant was leering at a photograph of a naked woman on his cell phone and at one point proclaimed, "Oh show me those big beautiful breasts, baby."The news network revealed details of their investigation last Friday, which sadly happened one day after Eiskant offered a no contest plea in Bernalillo County District Court for the ten charges not related to the masturbating mishap. The Santa Fe New Mexican reports that seven of those charges occurred in 2011, and the crimes of harassment, stalking and attempt t p commit false imprisonment all involved female victims.When KOB News caught up with a fellow cop that had worked with Eiskant, she explained that he had a reputation for being a "creeper." Former officer Shannon Brady says she tried to file a harassment complaint against Eiskant year earlier."They had plenty of opportunities over the course of many years to do something about it and they refused to," she tells the network.
You can share this story on social media: