Texas jailers accused of organizing 'rape camp'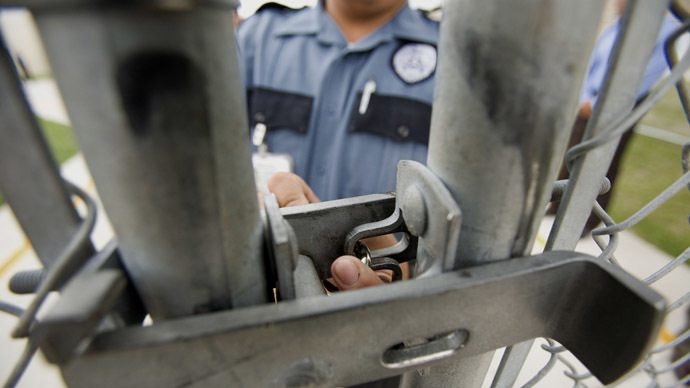 A criminal complaint just filed in Corpus Christi, Texas alleges that the guards at a local jail ran a horrific "rape camp" where they forced female inmates to participate unwillingly in graphic sex acts over the course of three years.
The complaint, filed in federal court by attorneys representing two former inmates, says guards at the Live Oak County Sheriff's office "ran a 'rape camp' known as the Live Oak County Jail" starting sometime in 2007 and lasting through August 2010.
"In this facility, numerous jailers, all employed by the Live Oak County Sheriff's Office, repeatedly raped and humiliated female inmates over an extended period of time," reads the complaint, first obtained Monday by Courthouse News Service.
According to the document, jailers Vincent Aguilar, Israel Charles Jr. and Jaime E. Smith forced female inmates to repeatedly engage in a number of sex acts with them, even withholding "food, drink and other hygiene items" on occasion in order to coax the women to do certain things. Other times, the jailers threatened to take away basic privileges.
All three jailers have been incarcerated since an arrest in 2010, but the plaintiffs are now seeking punitive damages over alleged civil rights violations, instances of assault and emotional distress.
According to a June 2012 article in the Beeville Bee-Picayune, the three defendants originally pleaded guilty to multiple charges of improper sexual activity with a person in custody, but ultimately their counts were reduced to only two apiece. Smith and Aguilar were both sentenced last year to 18 months in prison, with Charles receiving only a one year sentence.
One of the plaintiffs, named only as J.A.S. in the complaint, told attorneys that she was forced to perform various sexual acts on the defendants, "including oral sex and manual stimulation - whatever time permitted for their amusement."
"These incidents also included their own lewd acts on themselves, including masturbation where plaintiff was forced to conceal their ejaculate by way of ingestion," attorney Ronald W. Armstrong wrote in the complaint.
"These and similar acts occurred so frequently that plaintiff cannot account for the number of assaults she was forced to endure," Armstrong continued, noting that all three jailers would be present sometimes during the assaults.
That plaintiff, named only as J.A.S. in the filing, was ultimately released from Live Oak County Jail after the misdemeanor marijuana possession count she was originally charged with was dropped by the court. Not before, however, she says the jailers told her she "was their 'sex slave or whatever they wanted her to be."
Another woman, J.M.N., said she was also held at the facility at the same time in July 2010 and was "repeatedly sexually assaulted by defendants."
You can share this story on social media: