California launches 'Toilet-to-tap' water purification program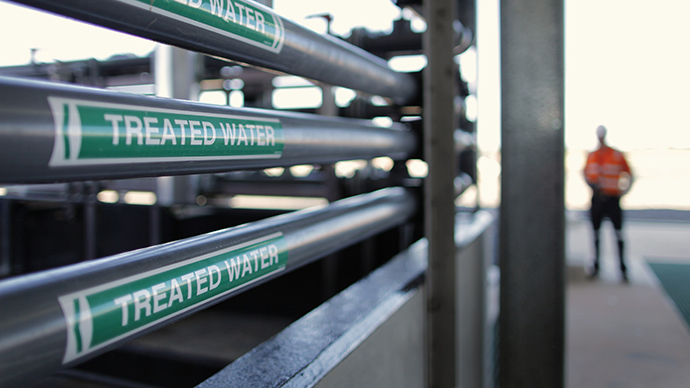 A sewage treatment plant will soon serve as Santa Clara County's newest source of water: pre-treated wastewater will soon be used for electrical fountains, fire hydrants, and landscaping, and might eventually replace tap water in residents' homes.
County officials claim purified sewage is safe to drink, but some residents are deeply disturbed at the prospect of drinking what was once used in toilets.
The new $68 million Silicon Valley Advanced Water Purification Center will open this fall. The plant will purify 8 million gallons of sewage water a day through microfiltration, reverse osmosis and ultraviolet light, CBS San Francisco reports.
"The state-of-the-art facility will take treated wastewater that would have otherwise been discharged into the San Francisco Bay and purify it," the purification center writes on its website.
Officials claim that the purified water is cleaner and safer to drink than current bottle or tap water, but Santa Clara County residents have nevertheless recoiled from the idea.
Because of the stigma surrounding the prospect of consuming and bathing in former sewage water, the purified water will not flow into homes – at least, not yet. When the facility opens in the fall, the water will be used for fire hydrants, landscaping and electrical fountains until officials are able to convince the public that the water is safe to drink.
"It takes a long time to educate folks and grasp this concept that this water can be purified to a level that's cleaner than what we are already drinking," Marty Grimes of the Santa Clara Valley Water District told CBS. "The reality is that we are able to produce water that is cleaner than all of our other water sources."
In the hydrology purification process, coagulants such as lime and alum are added to the water to cause particles to clump together. These clumps settle at the bottom of the water-holding tanks, after which the water if filtered out and disinfected with chlorine. Microfiltration ensures that all liquid and gas contaminants are removed, and reverse osmosis ensures that certain molecules and ions are removed. Ultraviolet light is then used to kill any microorganisms that might have survived.
Southern California is prone to droughts, and the new facility will provide a reliable water supply that would be particularly beneficial during long periods without rain.
"With the effects of climate change, population growth and long periods of drought on the horizon, we need to find additional local, sustainable water supplies," the Silicon Valley Advanced Water Purification Center writes on its website.
Although Santa Clara officials have ensured that the purified sewage water is safe to drink, the Santa Clara Valley Water District has previously come under fire for endangering the public by violating state water-pollution laws.
The agency repeatedly spilled hydraulic oil into its reservoirs, and last year faced a lawsuit for potentially damaging the environment and tainting drinking water. The agency brushed aside the allegations, claiming that the spills were small and insignificant.
But as news of the toilet-to-tap purification process spreads, residents might remain skeptical about the claims made by officials who considered hydraulic oil spills no big deal.
You can share this story on social media: