Police officer shot in LA area, gunmen surrenders after hostage standoff
Published time: 27 Nov, 2013 22:20
Edited time: 28 Nov, 2013 14:24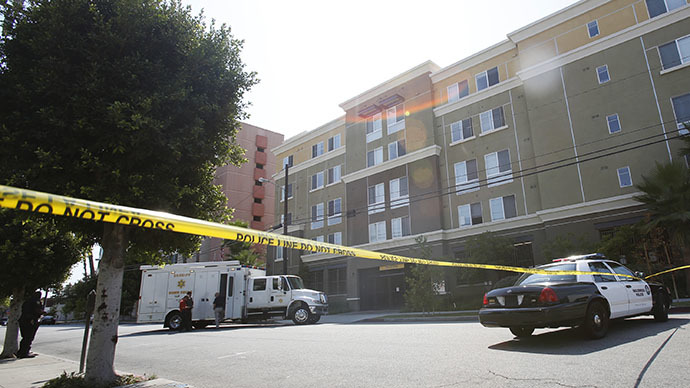 A gunman, who shot one police officer and was holed up with two hostages in a California home, has surrendered after a standoff that lasted nearly nine hours.
A 45-year-old man gave himself up and freed the two hostages — his girlfriend and her 14-year-old daughter, Inglewood police officer, Lt. Mark Fried, told the Daily Breeze. The two hostages have been reported to be safe. The suspect, said to have a criminal history, has been taken into custody.

Police arrived at a house in Inglewood at about 12:30pm following a domestic violence call. The shooting started shortly after officers arrived on the street to handle the conflict.

PHOTO: A Police officer, holding a baby, and leading families out of the danger zone in Inglewood. pic.twitter.com/BYyoPQpPIo

— Tara Wallis (@tarawallis) November 27, 2013
Inglewood policeman, Lt. Oscar Mejia, told Reuters that "before they could even get to the front door, they were under fire."

"The male officer was struck in the chest. The female officer also, in trying to scramble and help the male officer and protect him, fell down, was slightly injured but not hit by gunfire," the lieutenant added.

Inglewood police initially reported two officers were shot. Officials later said only one officer was shot, the Los Angeles Times reports. Another officer sustained unspecified minor injuries while trying to protect her partner.

The officer who was shot was hit in his bulletproof vest. He remains hospitalized.

"We believe body armor stopped the bullet," Lt. Mark Fried of the Inglewood police department said.
The officers were taken to Centinela Hospital.

"They are currently at the hospital, doing fine and in stable condition," Mejia said.

Police said the area has been evacuated and that anyone headed there is encouraged to stay away.

Inglewood, a city in southwestern Los Angeles County, California, lies to the southwest of downtown Los Angeles.