Will California prison hunger strike lead to Gitmo-style force-feeding?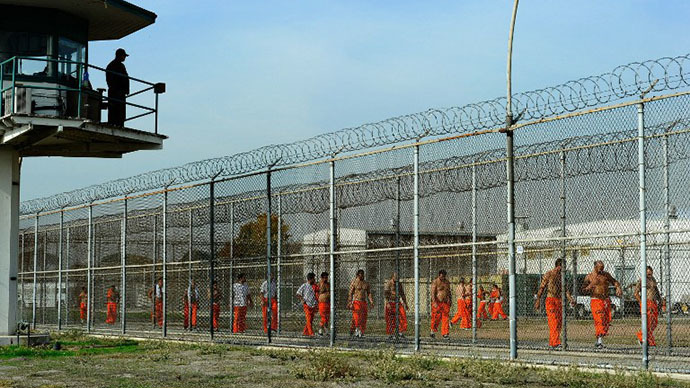 Amid a massive hunger-strike being waged across the state of California by thousands of prisoners in several facilities, officials may move to begin force-feeding inmates if it could prevent a larger uprising from occurring.
California is one of only three states where prison physicians are barred from using force-feeding in instances where inmates refuse to eat, but ProPublica journalist Christie Thompson has noted that the courts there have also allowed for an exception in the event that not intervening might cause chaos to unfold within a facility.
Now one week after prisoners at 22 state prisons and four out-of-state facilities started refusing meals, officials could consider taking the route that physicians have adopted at the Guantanamo Bay detention facility.
The California Department of Corrections and Rehabilitation only recognizes a fasting streak as a hunger-strike if inmates forego nine consecutive meals. The Los Angeles Times reported Sunday afternoon that the number of prisoners who have reached that point has dwindled down to 4,487 from the original 30,000 inmates involved in the strike one week earlier. As calls for reform within the California prison system continue, though, officials could see inmates — even in dire numbers — neglecting to eat in the coming weeks.
And although the California Correctional Health Care Services' director of legislation told ProPublica that "Force-feeding inmates is not part of our medical protocol," a provision within established law leads room for the CDCR to start ordering those procedures to take place if it's imperative to the safety of the prison.
A 1993 decision made by the State Supreme Court ruled that a paralyzed inmate could "decline life-sustaining treatment, even if to do so will cause or hasten death," paving the way for a provision that today keeps officials from intervening right away in any attempts to protest. Elsewhere in that ruling, though, the court ruled, "In another case, or in this case if a change of circumstances warrant, we do not preclude prison authorities from establishing the need to override an inmate's choice to decline medical intervention."
"A custodial environment is uniquely susceptible to the catalytic effect of disruptive conduct," the ruling continued, "and courts will not interfere with reasonable measures required to forestall such untoward consequences."
In other words, the decision stated, authorities can intervene with medical treatment "when otherwise health prisoner's attempt to starve himself threatened prison disciple and security."

"However, such measures must be demonstrable 'reasonable' and necessary," not a matter of conjecture.
According to ProPublica's Thompson, the prison officials might reach such a conclusion should they feel threatened by the current strike. Isaac Ontiveros, a spokesperson with the Prisoner Hunger Strike Solidarity Network, told Thompson that "It doesn't need to come to that," though, adding prison officials "can end this very, very simply."
"It's a little bit of bad press if you force-feed inmates," bioethicist Dr. Jacob Appel added to Thompson's report. "It's a lot of bad press if you have a lot of protesting inmates and one of them dies."
As of Sunday evening, strikes were continuing in 23 California prisons and one out-of-state prison. According to the LA Times, 731 inmates have also refused to go to work or class.
Inmates at the facilities have released a list of demands to the prison asking for, among other requests, an end to the state's practice of holding inmates suspected of internal gang involvement in isolation indefinitely.
You can share this story on social media: