'Burn it Down' – Dorner's hideout deliberately torched by LAPD as dramatic manhunt ends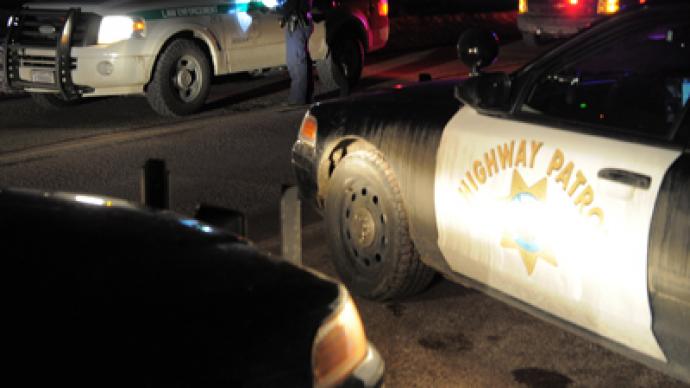 US Police were heard on Los Angeles TV and over LAPD audio yelling to burn down fugitive ex-cop Chris Dorner's cabin, revealing a deliberate, considered plan to torch the building in which Dorner was believed to be hiding.
Local news channel Kcal9 has played a recording in which police were heard to yell "burn this mother*****r down," and another shouting, "f*****g burn this mother*****r," as Dorner was barricaded inside his hideout.The news followed an LAPD audio recording in which a police officer is heard to say, "Alright, we're gonna go ahead with the plan with the burners," and continued, saying, "like we talked about," as his colleague confirmed he is in agreement.  During a Wednesday press conference, the San Bernadino County Sheriff claimed that law enforcement did not "intentionally" set fire to the cabin.Dorner had barricaded himself in the cabin in the San Bernardino Mountains near Big Bear, Los Angeles. The drawn-out and dramatic manhunt culminated with a siege and shootout.His hideout cabin was apparently set alight after attempts to force him out using smoke bombs and teargas failed. The message "surrender or come out," had been blasted into the building by law enforcement officials, and the media was ordered to shut off their live feeds during the stand-off. Hundreds watched the building go up in flames. It was unknown what had caused the fire. Nobody had been seen attempting to escape, and a charred body was later recovered from the wreckage, leading to the widespread belief that Dorner had been burned alive. However, no one has been formally identified – it may take days for the authorities to officially confirm that it was Dorner.Dorner had been on the run since Tuesday, suspected of murdering three people in a dramatic shootout. He had been formally charged with the murder of a police officer. A car chase ensued, and he was momentarily the most wanted man in America. Police offered a $1 million dollar reward in the case after his burned-out truck was found on February 7 on a forested road near Big Bear Lake.  Dormer, a former police officer, had been untraceable since he first escaped, and was rumored to be exacting revenge for being fired from his job. He was first named a suspect in the February 3 shooting of the daughter of his police union representative and her fiancé on February. A manifesto attributed to him also appeared online. The six-day manhunt – which included road blocks, bullets and helicopters covering the mountain town – came to a close on Tuesday night.
You can share this story on social media: