Broke school district ends year early, offers 'skills camp' instead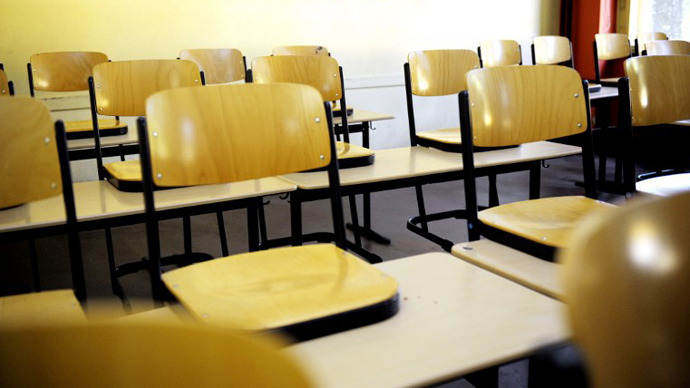 A Michigan school district has had to take the drastic step of firing all of its teachers and shuttering its classrooms before the end of the schoolyear, though it may offer students the option of attending a "skills camp."
Hundreds of students served by the Buena Vista district will not finish the academic year in mid-June as planned, as the state is withholding school aid for three months after accepting money for a program it was not providing.
According to an investigation by the Huffington Post, the already struggling district of some 400 mostly black and poor students began a downward spiral after the state of Michigan froze school funding to recover $402,000 that was supposed to be spent running the Wolverine Secure Treatment Center, an alternative school.
As of last week, representatives for the Michigan Department of Education stated that they were in touch with the broke district to come up with an alternative plan, though they emphasized that the issue was a local responsibility and that they could not legally assist Buena Vista if the district owed the state money. Michigan Governor Rick Snyder has thus far not commented on the issue.
For a time it was thought that students would be able to transfer to neighboring districts to finish out the year, though that plan appears to have reached an impasse.
Richard Syrek, superintendent of Saginaw County Intermediate School District (which oversees Buena Vista), said it would too expensive for other districts to accept Buena Vista students, citing legal issues.

"The legal parts have kept us from doing some of the things we wanted to do," Syrek told the Huffington Post.
"We've hit a dead end," he added.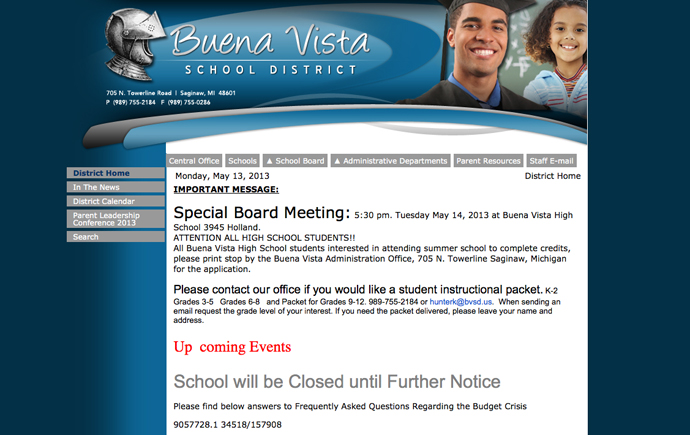 Michigan officials say they're hesitant to bail out school districts and set a bad precedent, though Representative Dan Kildee, the US congressman who represents Buena Vista, thought that worry was overplayed.

"Governor Snyder can - and should - immediately act to keep these kids in their classrooms for the remainder of the schoolyear," said Kildee.
Kildee also noted that Michigan had bailed out at least one school district in the past, making the notion of 'setting a precedent' invalid. In February of 2012, the state legislature responded with $4 million in emergency funding when schools in Highland Park, a city bordering Detroit, faced a similar situation.

"It's tragic," said Rae'Onna Barabino, 17, Buena Vista High School's valedictorian.

"We have to worry about prom and graduation and ending our year. It's very confusing, upsetting. It's heartbreaking," Barabino told the Huffington Post.
Buena Vista teachers had offered to work without pay for a week, but that was not enough to keep the district's schools open. Instead, the district may offer a "skills camp," a voluntary substitute paid for by federal Title I and Title 31 A grants, and run six hours per day for up to six weeks.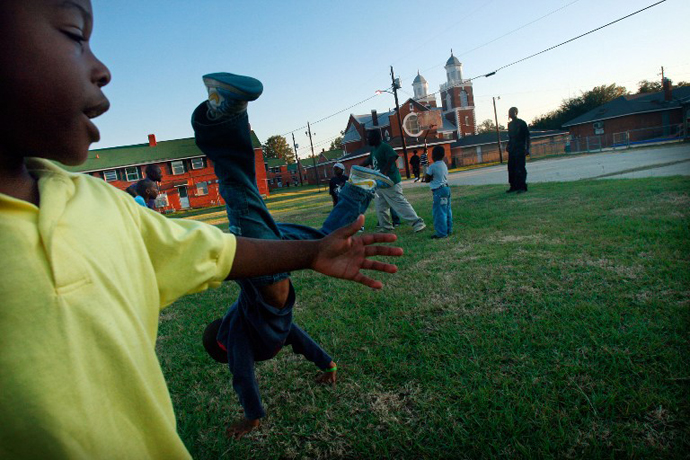 That potential solution has not sat well with Representative Stacey Erwin Oakes, a Democratic state legislator who also represents Buena Vista.

"I just don't understand why anyone would suggest anything other than open the doors of the schools for the last few weeks," Oakes told Huffington Post.

"We know from past history that students have been treated differently, going back to Brown v. Board of Education," she added.
Beatrice Avery, the parent of a Buena Vista high school senior, says she has been witness to the district's decline.

"Buena Vista has been a failing district for the last five years. We've always been on the watch. Our kids ain't really learning like they used to," said Avery.

"When they go to college, it's hard. The math, they don't get. Their reading levels are low. They're just passing them along. Them being out of school this early is going to hurt them a lot," she added.

You can share this story on social media: