Army refuses to drop charges against Bradley Manning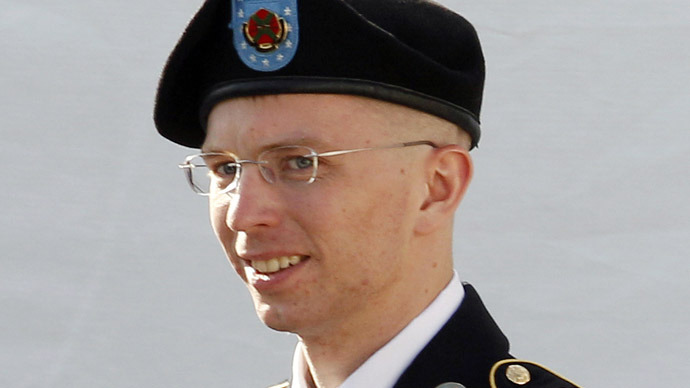 Bradley Manning will remain in military prison awaiting his eventual trial after an Army judge refused again a request to dismiss charges against the alleged whistleblower.
The military judge presiding over the case of Army Private first class Bradley Manning denied a motion entered by attorneys for the accused WikiLeaks source which would have dismissed charges against him due to the absence of a speedy trial.
Manning, 25, recently celebrated his one-thousandth day in military custody. From Ft. Meade, Maryland on Tuesday morning, however, Col. Denise Lind said that nearly three years of delays didn't constitute a violation of the speedy trial statute provided under the United States Rules for Military Commissions.
Under RMC 707, the court had 120 days to get the case against Pfc Manning off the ground. But although the accused has yet to be formally tried, the judge said that Army prosecutors were able to start pre-trial matters well before the deadline, with the arraignment occurring after only three months — taking into consideration, of course, delays that Lind considered excusable by the court.
Nathan Fuller of the Bradley Manning Support Network reports from the courthouse that the judge ruled that delays in the case in 2011 caused by the government weren't grounds to dismiss the charges since the Original Classification Authorities delegated to complete lengthy classification reviews in the case were permissible.
Lind found those delays "reasonable" and the prosecution of Pfc Manning "diligent," the Guardian's Ed Pilkington reports from Ft. Meade. On the other hand, he says, attorneys for the defendant called the ruling "shameful."
Private Manning was arrested in May 2010 and accused of leaking sensitive documents to the whistleblower website WikiLeaks. His formal court-martial is currently scheduled to begin in June, more than three years after he was first detained by the US military.
Last year, Manning's attorney lost a bid to dismiss the charges against him based off of the egregious treatment the soldier endured while detained in a brig at Quantico Military Base in Northern Virginia. Col. Lind credited Manning with 112 days off of whatever sentence is handed out if he's convicted when he's brought to trial later this year. Manning himself is expected to testify for only the second time later this week when he enters a plea deal: in lieu of charges that could put him in prison for life, Pfc Manning intends to plead guilty to lesser charges.
"Pfc Manning is attempting to accept responsibility for offenses that are encapsulated within, or are a subset of, the charged offenses," his attorney David Coombs said last year.
You can share this story on social media: