BP admits to 11 counts of manslaughter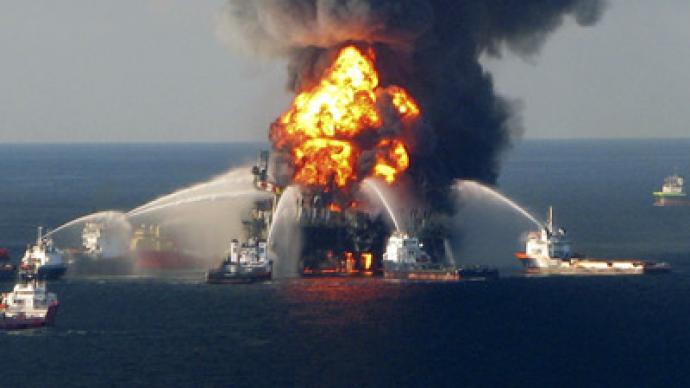 Oil giant BP will fork over the largest criminal penalty in the history of the United States and plead guilty to criminal misconduct, sources report, with more charges possibly forthcoming over the 2010 Deepwater Horizon spill in the Gulf of Mexico.
The US Justice Department admitted Thursday afternoon that two BP employees have been indicted with manslaughter for their involvement in the disaster that left 11 workers dead. Meanwhile, BP will pay the US a settlement worth $4.5 billion, including $1.3 in criminal fines, breaking the record for criminal penalties in the country previously held by drug maker Pfizer, who was penalized to the tune of $1.2 billion in 2009.In exchange for the plea and for also admitting guilt to obstructing Congress, BP will reportedly be in the clear from any further prosecution relating to the oil spill, the sources allege. At least two BP employees might not be off the hook themselves, however, possibly facing criminal manslaughter charges for their role The April 20, 2010 explosion at the Deepwater Horizon rig managed by BP not only caused the death of nearly a dozen employees onboard a barge near the Mississippi River, but ravaged the Gulf shore by polluting it with 4.9 million barrels of crude oil in the worst spill ever to happen off of America. Up until that point, the 1989 Exxon Valdez spill was the most severe in US history, having resulted in a comparably meager 750,000 barrels polluting Prince William Sound, Alaska due to a tanker crash. In that case, Exxon settled with the US government for what would be only $1.8 billion by today's standards.Only this past August, the US Justice Department filed pretrial papers revealing that they hoped to charge BP with "reckless management" of their Macondo well in what they attested "constituted gross negligence and willful misconduct." That matter was expected to end up the focus of a civil trial scheduled for early 2013, although the federal government has not yet delivered them with criminal charges. "We do not use words like 'gross negligence' and 'willful misconduct' lightly," a Justice Department attorney wrote in papers. "But the fact remains that people died, many suffered injuries to their livelihood, and the Gulf's complex ecosystem was harmed as a result of BP and Transocean's bad acts or omissions."While this week's deal is believed to relieve BP from further prosecutions, sources say the civil charges already brought up by the Justice Department will remain intact. According to the Associated Press, BP acknowledged before Thursday's plea that the proposed settlement "would not include civil claims under the Clean Water Act and other legislation, pending private civil claims and state claims for economic loss."Other claims as well against BP exist, the AP notes, from banks, businesses and local governments who want compensation for losses caused by a mandated moratorium on drilling announced after the spill, none of which are covered by BP's proposed settlement with private attorneys.BP has previously estimated that it will spend an additional $7.8 billion or so to settle class-action claims from private plaintiffs including over 100,000 individuals and businesses impacted by the disaster.