Billions at stake: US and BP clash in court over Gulf oil spill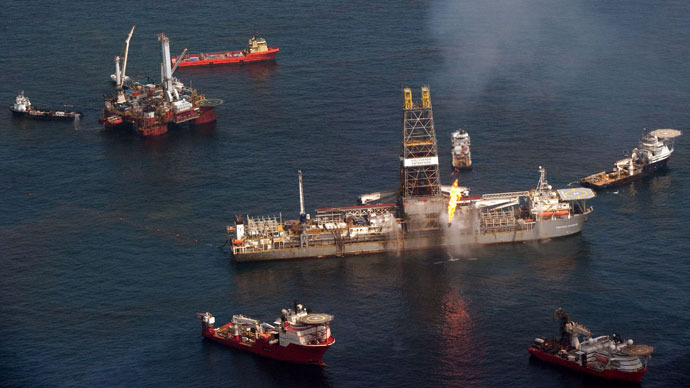 Oil giant BP is in court this week to begin what is expected to be a lengthy legal battle that could cost the company billions of dollars in additional penalties for their part in the 2010 Deepwater Horizon spill in the Gulf of Mexico.
BP, or British Petroleum, averted a US Department of Justice criminal investigation last year by pleading guilty to manslaughter and other charges for their role in the April 20, 2010 disaster that left 11 men dead and millions of gallons of oil in the Gulf. In order to settle those charges, BP paid the US government $4.5 billion in penalties and another $7.8 billion to businesses and residents affected by the spill. As a civil trial starts in New Orleans, Louisiana this week, though, the oil corporation could be asked to pay as much as billions of dollars in added fines.
"In terms of sheer dollar amounts and public attention, this is one of the most complex and massive disputes ever faced by the courts," Fordham University law professor Howard Erichson tells the Associated Press.
In the civil trial, which began Monday morning before U.S. District Judge Carl Barbier, attorneys for the federal government, the Gulf states and a slew of private plaintiffs will tell the court that BP's gross negligence, described by reckless or willful disregard for human and environmental safety, caused the largest off-shore oil spill in US history.
"BP repeatedly chose speed over safety," attorney Jim Roy said on behalf of the plaintiffs Monday morning while arguing that BP applied "huge financial pressure" on its drilling managers to "cut costs and rush the job" on the construction of the oil rig.
If Judge Barbier agrees, then BP and three other companies involved in the construction of the well will face billions in punitive damages. BP isn't taking the case sitting down, though, and wants to walk away as unscathed as possible, especially after already spending billions: The AP reports that BP has so far spent at least $24 billion in expenses related to the spill, and will likely have paid out $42 billion when all is said and done. First, however, their attorneys will have to tell Judge Barbier that BP didn't act entirely negligent before the disaster.
Last week, BP said the government's estimate for the amount of oil spilled into the Gulf was "at least 20 percent overstated." They also vowed to "vigorously defend" themselves from allegations of gross negligence and that the catastrophe stemmed "from multiple causes and involving multiple parties." Nearly three years after the accident occurred, however, 7,000 kilometers of coastline is still slowly being repaired.
"Our oysters are all dead, we can't go into the Bayou, we haven't fished," 58 year-old fisherman Byron Encalade tells Deutsche Welle this week. "Our community is being desecrated and you can't speak about an economy, we don't even know what that is anymore."
Depending on his eventual verdict, BP, contractor Halliburton, rig operator Transocean and manufacturer Cameron could have to divvy up whatever payments are owed when the civil trial comes to the close.
"If they are found grossly negligent it will set the tone on the level of fines BP will have to pay, and the financial consequences will be huge," Nick McGregor, an oil analyst at Redmayne Bentley stockbrokers, tells the BBC. "So while BP's posturing in public is robust, I wouldn't be surprised if they are aggressively trying to reach for a settlement behind the scenes."
If BP is charged with just simple negligence, they could end the court case with only $4.5 billion in penalties under the Clean Water Act. If the judge says BP was grossly negligent, however, those fines would amount to as much as $17.6 billion, plus whatever punitive damages are awarded to claimants who were left out of last year's separate $8.5 billion settlement. Additionally, the Gulf states of Louisiana, Alabama, Mississippi and Florida are asking for another $34 billion in damages under the Oil Pollution Act, citing the possible long-term effects of the spill in terms of both economic losses and property damage.
Before Monday's hearing got under way, it was reported that BP was likely to settle out of court. With four trials in the last decade ending that way for the company, they are likely to still reach an agreement before Judge Barbier wraps up the case. One night before the latest hearings began, a New York Times report suggested that BP was considering a settlement that would cap out at $16 billion.
You can share this story on social media: