US Customs agents reportedly destroyed Canadian man's 11 homemade instruments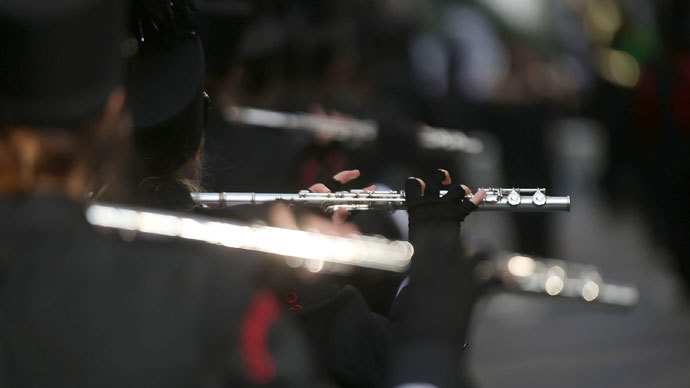 ​United States Customs and Border Patrol is under fire after a new report revealed that officials there confiscated nearly a dozen homemade instruments from a Canadian man and proceeded to destroy them.
Canadian-born flute player Boujemaa Razgui was flying from Marrakech, Morocco back home to New York when Customs officials at John F. Kennedy International Airport asked to see the instruments he had on hand. Razgui was carrying 11 instruments with him at the time, each of which was built himself and corresponded to varying sets of musical pieces.
According to the Slipped Discs blog at ArtsJournal.com, the agents then took the instruments out of the musician's luggage and "smashed" each one.
When contacted by the blog, Razgui expressed his unhappiness with the situation.
"I told them I had these instruments for many years and flew with them in and out," he said. "There were 11 instruments in all. They told me they were agricultural products and they had to be destroyed. There was nothing I could do. The ney flute can be made with bamboo. Is that agricultural?"
Another musician told the blog, "I can't think of an uglier, stupider thing for the US government to do than to deprive this man of the tools of his art and a big piece of his livelihood."
Although declaring musical instruments as agricultural products may seem strange, US Customs and Border Patrol (CBP) have strict guidelines when it comes to bringing in items made out of raw material, including bamboo products.
"In general, bamboo that is not thoroughly dried and is therefore still capable of propagation is prohibited entry into the United States," reads the CBP's website. "Bamboo that is thoroughly dried and split or cut lengthwise (rendering it incapable of propagation) will be inspected upon entry and released."
It's unclear if Razgui's instruments were made of "thoroughly dried" bamboo, if agents did not adequately follow guidelines or if there's another explanation, and Customs officials have yet to comment on the situation. According to the CBP's website, however, the agency can also deny the entrance of items it believes could potentially carry invasive species, diseases or other pests.
Notably, this isn't the only music-related incident as of late involving a passenger and US border officials. An article over at the Fretboard Journal comprehensively documents the trouble that guitarists have had bringing their instruments into other countries.
Earlier this year, meanwhile, the Transportation Security Administration suffered criticism for damaging a cello player's $20,000 instrument. In December, the TSA also made waves for confiscating a two-inch toy pistol that it claimed looked like a real gun.
Correction: The headline of this article previously attributed the alleged incident to officials at the US Transportation and Security Administration. The TSA has informed us that their employees were not involved. As stated in the article but not in the original headline, agents with the US Customs & Border Protection are accused of damaging Mr. Razgui's instruments. Both the TSA and CBP are agencies of the US Department of Homeland Security, but separate entities. We apologize for this error.
You can share this story on social media: