​Border agent assaulted three surrendering female immigrants before committing suicide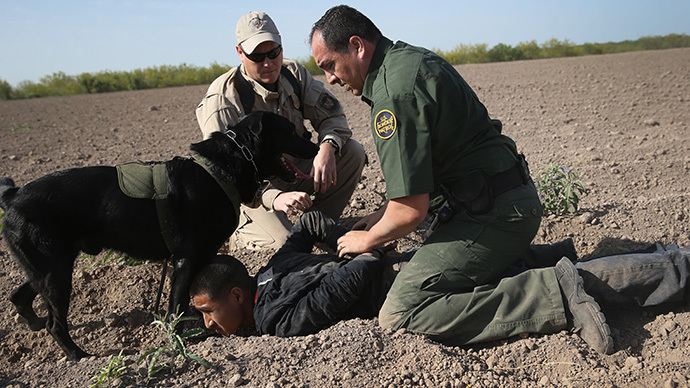 A United States border agent kidnapped and assaulted a woman, her daughter, and another girl late Wednesday as the three undocumented Honduran immigrants attempted to surrender, authorities say. The agent then committed suicide early Thursday morning.
US Border Patrol Agent Esteban Manzanares was on duty along the Rio Grande River around Mission, Texas when he allegedly encountered the three women. They attempted to surrender, yet Manzanares attacked them – cutting the wrists of the adult woman, assaulting one teenager, and then leaving the area with the second teenage girl, according to officials.
The woman who escaped the attack walked upriver, alerting a camera near a border fence around 17:00 local time (22:00 GMT) on Wednesday, officials told the Associated Press. In the camera image, the woman was seen with blood covering her wrists.
Ten minutes after tripping the camera, border agents responded, officials said. According to the Patrol's parent federal agency, Customs and Border Protection, the woman told the agents she was attacked by a man wearing green fatigues – Border Patrol agents wear green uniforms – and the vehicle she described him driving was believed by authorities to be a Border Patrol vehicle.
Authorities said a search was launched for the two teenage girls, one of which was found in some brush near the border. The second girl was found on Manzanares' Mission home. Mission, a suburb of McAllen, is around 80 miles from the Gulf of Mexico.
When law enforcement approached Manzanares' home, they reported hearing gunfire. Soon after, they entered the apartment, finding the second teenager with a dead Manzanares.
A Customs and Border Protection official said Manzanares, who had been on duty when he encountered the three, was no longer on shift at this time. All sources spoke anonymously due to the ongoing investigation.
The Honduran Embassy in Washington, DC said the three victims were recovering at a McAllen hospital, though a spokeswoman would not describe their injuries. The Embassy confirmed the three are a mother, daughter, and unrelated girl, all undocumented.
A Border Patrol agent said Manzanares, who began with the Border Patrol in 2008, was assigned to Anzalduas Park, an area of Mission near the river. The FBI would not comment on Manzanares pending an autopsy report.
R. Gil Kerlikowske, Commissioner of US Customs and Border Protection, said that the agency is collaborating with the FBI on the investigation, and that it is working to ensure the victims are receiving proper care.
"I am deeply sorry that this incident occurred and am committed to doing everything in my power to prevent incidents like this from occurring again," he said in a statement, adding the event is not indicative of Border Patrol agents.
Apprehensions by Border Patrol went up by 16 percent last year to 420,789 undocumented immigrants detained. Over half of those arrests occurred in Texas, according to AP.
Border arrests of Mexican nationals have remained steady, though apprehensions of those from other Central American countries went up 55 percent in 2013.
An independent review by law enforcement experts of Border Patrol conduct recently released after being held from Congress found that agents have purposely stepped in front of moving cars to justify shooting at drivers and used firearms against people throwing rocks across the border from Mexico.
The report, which focused on 67 cases of force that resulted in 19 deaths, chastised the Border Patrol for substandard investigations following cases where US agents fired their weapons. The review panel also said that it could not determine whether the Border Patrol "consistently and thoroughly reviews" instances where deadly force was used.
You can share this story on social media: