After Sandy, Bloomberg refused National Guard's help because they have guns
Published time: 5 Nov, 2012 19:38
Edited time: 5 Nov, 2012 23:38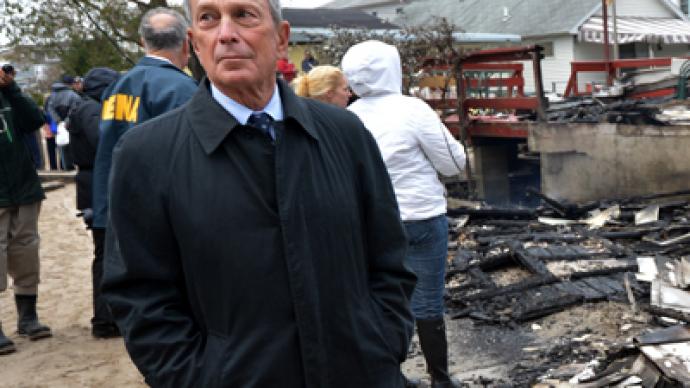 As New York City was just starting to assess the damage from Superstorm Sandy last week, Mayor Michael Bloomberg dismissed asking the National Guard for extra help because "The NYPD is the only people we want on the street with guns."
Bloomberg, the billionaire mayor of the most populated city in the United States, was speaking to the media on Wednesday when he unleashed a quip that wasn't quite picked up by the press immediately besides a short New York Post article. Five days later on the one-week anniversary of Sandy's arrival on the East Coast, the mayor's comment is now being pounced on as the city continues to try and rebuild.
The mayor made the remarks on November 1 after Brooklyn Borough President Marty Markowitz said the city needed more help from the US National Guard following a frankenstorm that left much of the city powerless and eventually caused the deaths of over 100 people across 10 states.
"Governor Cuomo also acted quickly by activating the National Guard prior to the storm, and I urge him to allocate as many troops as possible to Brooklyn — troops from New York or any other states that can spare them," Mr. Markowitz said in a statement that Tuesday. "During my tours of the hardest-hit Brooklyn neighborhoods yesterday and again today, it was apparent that the devastation is so widespread and overwhelming that it's in the best interest of all of our residents for a more significant National Guard presence to supplement the great work being done by our brave—but overwhelmed—first responders, including our amazing NYPD and FDNY."
"All of our resources have been stretched to the limit," Markowitz said. "In the name of public safety we need to send more National Guard personnel into Coney Island, Manhattan Beach, Gerritsen Beach, Red Hook and any other locations."
"[T]he sight of an armed soldier would deter criminal activity in the still-inaccessible evacuation zones — such as the rash of break-ins that took place in Coney Island hours," he said.

In the nearby Rockaways area, 15 suspects were arrested by Thursday and charges with looting.
Still, Bloomberg initially refused the borough president's plea, saying the city didn't need any more militarized police. It's safe to say that he's content with the New York Police Department's efforts, though, especially since he has regularly praised them despite calls for changes from people who cite the continuing stop-and-frisk policies and ongoing corruption as reason to reconsider the NYPD's role.
"I have my own army in the NYPD, which is the seventh biggest army in the world," Bloomberg told reporters nearly one year ago during a press conference.
As of Monday, November 5, the Pentagon has placed more than 4,000 Guard troops in New York and New Jersey where the most devastation has been reported.
"These are soldiers that have trained for combat but serve in domestic operations," Army Maj. Gen. Patrick Murphy, the adjutant general of New York National Guard, says in a statement released by the US Department of Defense. "They've done just incredible work in the area of security, logistics distribution and working with law enforcement and their local partners. Our soldiers and airmen … are true professionals and they want to help the citizens that they live with every day, their neighbors."