"Birther Bill" approved in Arizona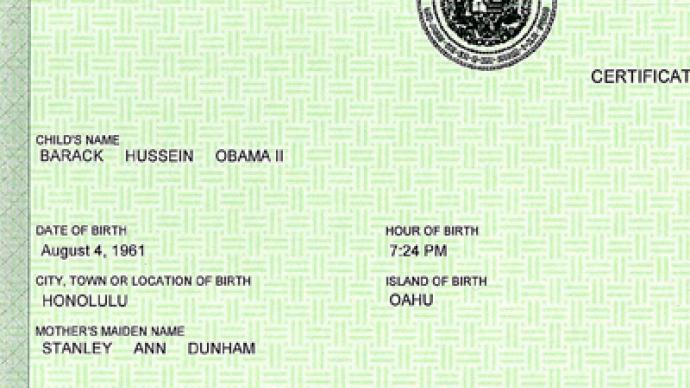 A Republican-boosted bill that would require presidential candidates to prove their citizenship passed in the Arizona Senate on Wednesday, signaling a serious victory for those aligned with the growing "Birther" movement.
State Senator Carl Seel (R) met with Birther-backer Donald Trump last week to discuss the legislation, which has been a focal point of the billionaire in recent weeks as rumors circulate that he will run for president in the 2012 election. Trump has been outspoken on the authenticity of President Barack Obama's American citizenship, telling ABC last month that he has doubt about Obama's place of birth, calling it crazy that "nobody knew him" growing up.The approved bill will require that presidential candidates produce a "long-form" birth certificate before competing in Arizona. Such documentation includes birth certificates that contain place of birth, the name of the hospital and attending physician (as well as signatures from witnesses), a certificate of circumcision or baptismal record, a hospital birth paper or a postpartum medical record.No Democrats voted in favor of the bill, which passed at 20-9.They do, however, feel like the bill, if turned into a law, will be struck down by courts."This is designed specifically to challenge [Obama's] ability to run for re-election," State Sen. Kyrsten Sinema (D) told Arizona's 3TV. "Frankly, I think they'd be better served by just surfacing a good candidate to run against him."Republican Senator Judy Burges proposed the same bill last year—at which point it failed—but remains supportive still this time around. "It's essential that as candidates running for the office, we bring back the integrity to the office and that we show that we qualify to serve in the position that we are running for, whether it's city council, whether it's for the legislature, whether it's for a statewide office or if it's for the President of the United States," Burges said to Talking Points Memo.Former vice presidential candidate Sarah Palin recently aligned herself to the birther movement herself, telling Fox News that she appreciates Trump's efforts, celebrating him for "spend[ing] his resources on something that so interests him and so many Americans.""You know, more power to him," added Palin."Obviously there is something that the president doesn't want people to see, that he sees going to great lengths to make sure it isn't shown. And I think that's perplexing for a lot of people," Palin said.Both Georgia and New Hampshire have considered similar bills, though Arizona is the first to approve something along these lines.
You can share this story on social media: