Will Bilderberg elect the next US president?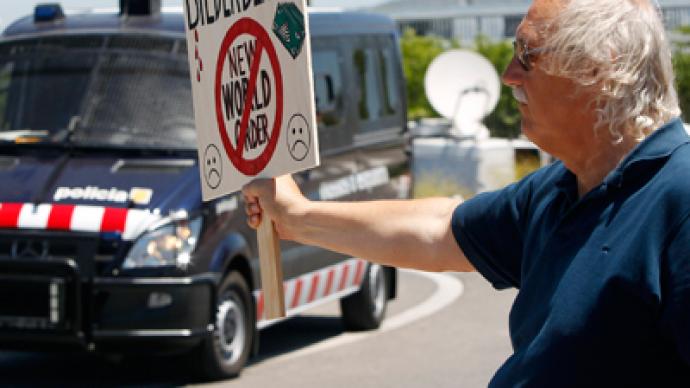 Around 150 of the world's elite will meet outside of Washington, DC this week at the annual Bilderberg Conference, and although the agenda isn't advertised to the public, some sources are already speaking out about what this year might bring.
Officially, the details of each Bilderberg Conference aren't anything its members will go on the record to reveal. According to spectators that have kept a close eye on the event's happenings each year, however, the annual conference has a reputation for being a kingmaker — and an elusive and exclusive one at that.Speaking to RT earlier this month, radio host Alex Jones shared his expectations for the coming conference. According to the journalist, "Should the elite get behind Mitt Romney or Barack Obama?" is a question that he expects to be brought up for discussion. "Both men are bought and paid for by the same financial interests, and so the discussion will be which candidate can basically con the American people to lay down the tyranny for another four years."But does the biggest election of 2012 really rely that much on a mysterious meeting? Many people will tell you yes, and they are often willing to provide evidence to explain. Before becoming household names, politicians such as former presidents George H.W. Bush and Bill Clinton both attended Bilderberg conferences in the years before being elected to the Oval Office. Tony Blair was on hand at the 1993 gala before becoming prime minister of England in 1997, and the 2008 conference is believed to be the catalyst for that year's US presidential election: rumors suggest that attendees settling on backing Barack Obama for the Democratic Party nomination at that year's event, only for contender Hillary Clinton to bow out two days later."For an entire day, the media in Virginia and in DC saying, 'Where's Obama? Where's Obama?' And we were there saying he's inside, the secret service is there," Alex Jones recalls of the 2004 conference to RT. As with 2004, this year's Bilderberg Conference will be held at the Chantilly, Virginia Westfield Marriott, and employees there are already privy to the fact that Jones will be ready to scrutinize every action he can witness from the grounds: on Tuesday, his reservation at the establishment was revoked and he was informed that he banned from the hotel; hours later, Jones' Prison Planet website revealed that "all guests had been kicked out of the hotel, and offered one night's accommodation at the Residence Inn in Chantilly (also Marriott owned).""Policy is being set there and this is one of the most elite meetings out there," Jones told RT. That, many fear, is precisely why those close to the conference don't want outsiders to have an inside scoop.This year Jones expects details of the US presidential election to obviously be discussed, but perhaps the agenda item most interesting to many involves only one side of the race: rumors are quickly evolving about who and how the GOP will go about selecting a vice presidential nominee to run alongside their candidate of choice, former Massachusetts Governor Mitt Romney. Al Kamen, a writer at the Washington Post, recently compared a recent speech from Senator Marco Rubio with one given at the 2004 Bilderberg Conference by John Edwards — which some say was instrumental in securing the VP nod back in 2004. The rumors of  Bilderberg being a launching pad for a Rubio run under Romney at this week's conference has since been spun by reporters at Politico, Salon and elsewhere.
You can share this story on social media: