Alleged Benghazi attack organizer mocks America over strawberry frappe as Obama orders manhunt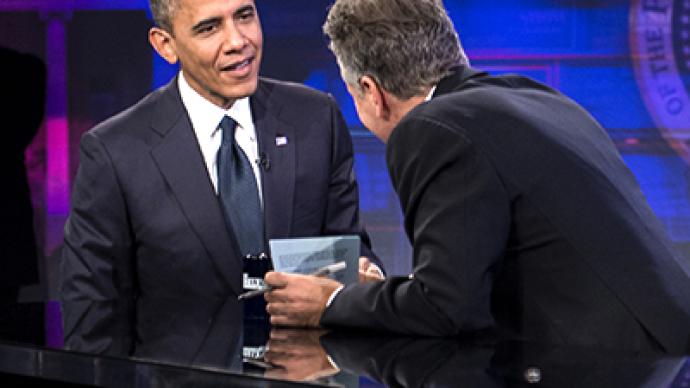 To Daily Show host Jon Stewart Thursday night, US President Barack Obama said he's serious about hunting down whoever led last month's terrorist attack in Libya and bringing them to justice. For starters, he might want to call up the New York Times.
Five weeks after an assault on the US consulate in Benghazi left Ambassador Chris Stevens and three other Americans dead, the reaction from Washington has been anything but fruitful. No elected official has yet to reveal with certainty who led the attack, and both the White House and the US State Department have at times offered entirely different explanations for the assumed motives of the assailants.Making his sixth appearance since elected on Comedy Central's The Daily Show this week, Pres. Obama entertained Mr. Stewart's inquiries into the handling of a tragedy that has been ridiculed by congressional lawmakers on both sides of the aisle, as well as pundits aplenty and politicians from across the globe. When the Benghazi attack was said and done, the White House first suggested that an anti-American film was the catalyst for the storming of the consulate. That explanation was echoed by Secretary of State Hillary Clinton and the US ambassador to the United Nations, Susan Rice, only to be refuted weeks later by the Pentagon and, eventually, the president himself. To his own defense, however, Mr. Obama insisted that his actions in the immediate aftermath of the attack have been in-line with what any commander-in-chief could have and would have done."We weren't confused about the fact that four Americans had been killed," Pres. Obama told Stewart. "I wasn't confused about the fact that we needed to ramp up diplomatic security around the world right after it happened; I wasn't confused about the fact that we had to investigate exactly what happened so it gets fixed; and I wasn't confused about the fact that we have to hunt down whoever did it and bring them to justice. As I said during the debate, nobody is more interested in figuring this out than I am."Even if Mr. Obama's insistence regarding his investment in the attack is genuine, journalists with both the New York Times and Reuters may have already done a better job than all of the government agencies combined. At the same time Pres. Obama endorsed a thorough investigation into the attack, articles published by major media outlets had already accomplished as much. On Thursday, the Times published an interview alleged to have recently occurred between one of their reporters and Ahmed Abu Khattala, described to the paper by both witnesses and Libyan authorities as a ring-leader of the September 11, 2012 assault.When Pres. Obama told Stewart that he is still very serious about hunting down any persons with a part in the attack, the Times had already conducted a sit-down with the suspected terrorist at a "crowded luxury hotel" in Benghazi, where the paper described Khattala as nonplussed and anything but concerned about repercussions from the White House. The Libyan national Army assumingly in cahoots with the Obama administration was a "chicken," Khattala said, and US politicians were "playing with the emotions of the American people" and "using the consulate attack just to gather votes for their elections.""Suspect in Libya Attack, in Plain Sight, Scoffs at U.S.," the Times headline reads.By early Friday, the White House had yet to weigh in on allegations that Khattala had an active role in the attack, but by then the paper had even found the time to make a correction, all but certainly ordered by someone with first-hand knowledge of the details pertaining to the reporter's interview with a criminal mastermind who claims responsibility for killing four Americans:"An earlier version of this article described incorrectly a beverage that Ahmed Abu Khattala was drinking at a hotel in Benghazi, Libya. It was a strawberry frappe, not mango juice, which is what he had ordered.""In plain sight," Khattala had already admitted his role in a busy Benghazi hotel to American-hired reporters, then ordered a correction to keep an international audience up to date on what, specifically, he prefers to drink while confessing his role in a conspiracy that has captivated the world. "These reports say that no one knows where I am and that I am hiding," the suspect relayed to Reuters in a piece published the same day. "But here I am in the open, sitting in a hotel with you. I'm even going to pick up my sister's kids from school soon."As if there was no easier target, Reuters then describes the man's appearance in great detail: Khattala is 41 and wearing a red felt hat to balance out the overgrown salt-and-pepper beard he sports. The man "laughed gently," Reuters wrote, after admitting that he's easy to spot. He's unmarried, they add, barely educated, has never been abroad and even is assumed to be on the radar of authorities in his native country, where he says he spent a decade in prison for "knowing suspected personalities."Khattala may very well indeed be wanted by American authorities, but for now his first-hand knowledge of the Benghazi attack is only being publicly addressed by the media. In an all-too similar instance, last month the US government gave the media a major head-start hours after the assault, relinquishing an immediate investigation of their own, only for CNN reporters to forage through the consulate and come into possession with the slain ambassador's own written account of the days leading up to his death. "What I always tried to do is make sure that we just get all the facts, figure out what went wrong and make sure it doesn't happen again—and were still in that process now," Pres. Obama told Stewart this week of the Benghazi investigation, "but every piece of information that we get, as we got it, we laid it out for the American people. And the picture eventually gets fully filled in and we know exactly what happened and then we make sure we prevent it in the future."When the world's foremost federal intelligence agency and the commander-in-chief of the most colossal military on Earth is taking a second-place finish behind corporately owned media yet again, it can't help but raise questions about whether or not the government is giving the Benghazi assault the investigation it says it is. If anything, it could even explain why the White House is so adamant about plugging leaks and silencing the whistle-blowers that wave a red flag every time a substantial screw-up is spun out of control. But maybe — just maybe — Pres. Obama is indeed a man of his word and won't rest until those responsible — Khattala or others — are brought to justice. To Stewart, though, Mr. Obama made another vow this week, establishing yet again his intent on closing the US military prison at Guantanamo Bay, Cuba — a promise he put his weight behind four years earlier and has yet to follow through. To the Daily Show audience, Pres. Obama says the fault there lies with a Congress who simply cannot agree with his Oval Office demands to end the torturous imprisonment of over a hundred suspected criminals of war. If Benghazi is any indication, though, it might just have to take the media to make any sort of dent in getting anything done.