Benghazi report: State Department 'systematic security faults' left consulate vulnerable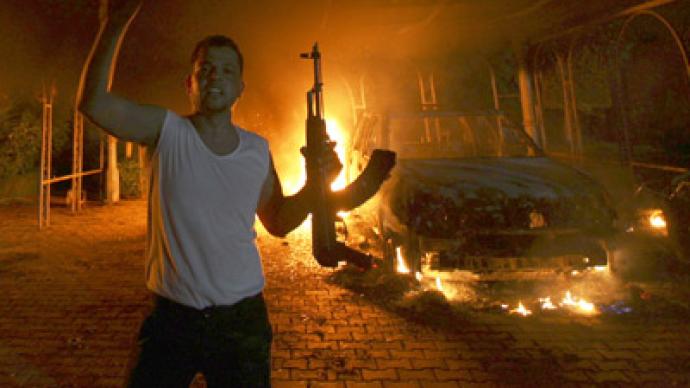 The US State Department security chief and two other senior officials have resigned in the wake of a damning report on the security in the Libyan compound where the US ambassador was killed earlier this year.
An independent panel set up to investigate September's Benghazi attack has placed the blame for the death of four US foreign servicemen on inadequate security measures provided by the State Department.­On Tuesday, the US State Department delivered a classified version of the report by the Accountability Review Board containing 29 recommendations to improve US embassy security to lawmakers. An unclassified version of the findings was also released. Systematic mismanagement was blamed for the inadequate security that left the diplomatic mission in Benghazi vulnerable to the attack on September 11th. Contrary to initial reports, the panel concluded that there were no rallies outside embassy at the time of the assault and blamed the deaths of Ambassador J. Christopher Stevens and three others on terrorists.The probe also revealed that Washington ignored calls from the American Embassy in Tripoli to supply more guards for diplomats, instead relying on local militias to safeguard the diplomatic mission.The findings also said that the State Department waited for specific threats rather than installing security protocols as the security situation worsened in the country. In addition the inquiry discovered that "intelligence provided no immediate, specific tactical warning of the September 11 attacks." However the report also praised US personnel in Libya. "The board determined that US personnel on the ground in Benghazi performed with courage and readiness to risk their lives to protect their colleagues, in a near impossible situation," it reads.The probe has also made it clear that it did not "find reasonable cause to determine that any individual US government employee breached his or her duty." Secretary of State Hillary Clinton has accepted all 29 of the panel's recommendations, some which are classified, in a letter to Senate's Committee of Foreign Relations. "I'm grateful for its recommendations for how we can reduce the chances of this kind of tragedy happening again. I accept all of them," the letter read.Furthermore, Clinton claims to have initiated extra steps that reach beyond the board's recommendation, including "strengthening mutual security arrangements between State Department and other government agencies."According to the New York Times, the State Department is requesting Congress to transfer $1.3 billion from Iraq mission funds, to spend $553 million for additional Marine security guards, $130 million for security personnel and a further $691 million improving security at installations abroad.