Baltimore blogger live broadcasts his standoff with SWAT team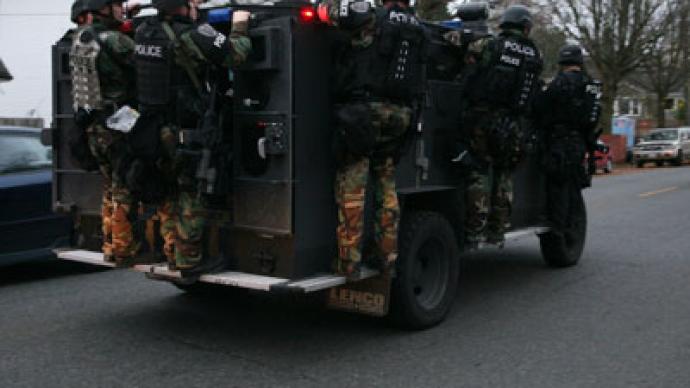 A blogger from Baltimore, Maryland captivated Internet audiences around the world Saturday evening by broadcasting his stand-off with a local SWAT team over the Web.
As many as 10,000 listeners tuned in to an online radio station during the weekend as Frank James MacArthur, 47, gave detailed commentary as the Baltimore Police Department attempted to execute an arrest warrant at his home. "I am surrounded by a bunch of men with guns," the man told his audience at one point during his play-by-play.MacArthur was reportedly ordered to be brought into custody for an alleged June 2012 probation violation that broke the terms of the sentencing he received for a 2009 gun case. Authorities told MacArthur that he had missed the court date for that charge and a warrant had been issued for his arrest, but MacArthur said he was never informed of an appearance before a judge.In the days before the SWAT team was dispatched this weekend, MacArthur made repeated references to his "fugitive" status on Twitter and suggested that he would not go without incident if he felt his life was threatened by any attempts by the police to apprehend him.During the broadcast, MacArthur spoke at length over the phone with police negotiator Lt. Jason Yerg while playing their conversation live for his audience. As he carried on the conversation, listeners sent tweets of encouragement and advice to MacArthur to coach him through the situation."What we're seeing going on is an abuse of SWAT. I'm seeing that the Baltimore Police Department … that because of something said on Twitter allegedly, we so quickly end up with a SWAT situation. This is highly disturbing to me as a citizen of this town. That it's so easy to get a SWAT deployment," MacArthur told Jerg.At one point, MacArthur told the officer that he would exit his home peacefully around 10:30 p.m., but then continued to negotiate the terms of his surrender because he wanted to make sure he could lock up his house behind him upon leaving. The last time he had been arrested, MacArthur explained, thousands of dollars' worth of belongings were removed from his home while he was in custody.According to MacArthur, he also feared that the police would use brutal and violent tactics to apprehend him, citing other examples of excessive force and the absence of any media near his home."I guarantee your safety," Lt. Jerg told MacArthur during the conversation. "You're going to be treated with fairness and respect.""Fairness and respect? No friggin' knees in my back?" he asked. Throughout the duration of the conversation, MacArthur led the lieutenant through dialogue involving the history of a police force he described as inept and unable to properly focus its resources in the right places — dispatching platoons of militarized police to apprehend one man, for example, meanwhile as the city's homicide rate continues to rise."The very fact that you're here right now means that this is not, this is already one of those extreme cases. There's nothing routine about this," said MacArthur during the show. "Being in my house, minding my own business, conducting my own Internet broadcast to my loyal fans and followers and now being surrounded by a SWAT team, this is already in an extreme.""I just got word from my audience that you guys are not letting anybody near my block. So you just got rid of the witnesses," MacArthur said, according to the Baltimore Sun, who dispatched a reporter to the scene but was unable to come close to the resident surrounded by SWAT. "I'm going to come out and whatever happens, happens. I'm prepared to die.… There are people who responded to me, because they care about me and they want to see justice served, and you're not letting them get to me. You're coming up with all sorts of justifications … but it's just a ruse to get rid of potential witnesses.""This is coming to an end," he told listeners shortly before 11. "Should you guys never hear from me again it's because these coppers killed me. If something funny happens to me, lieutenant, the world is watching.""I think you'll have a ton of advocates," Yerg responded."Whatever happens next, hopefully, local media will give it lots of coverage. I will be placing myself, my life, my safety in Lt. Yerg's hands," he said."Alright, 10:57. Network news comes on at 11. Let's wrap this up for the networks, huh? That's a good one," MacArthur announced just before surrendering. "The audience won't be listening because I'm going to walk away from this microphone. … Let's send this thing into orbit.""OK, folks, this it… I thank everybody for listening, for showing your concern … This is a ratings bonanza – a smash hit," MacArthur told the crowd."To all of our listeners, thank you for listening," Lt. Jerg chimed in.MacArthur stepped away from the microphone and cued an audio clip of a recent address delivered by Rep. Ron Paul (R-Texas) on the floor of Congress, then surrendered peacefully after a standoff that lasted around five hours.
You can share this story on social media: