'Massive' low-flying helicopter to test radiation levels in Baltimore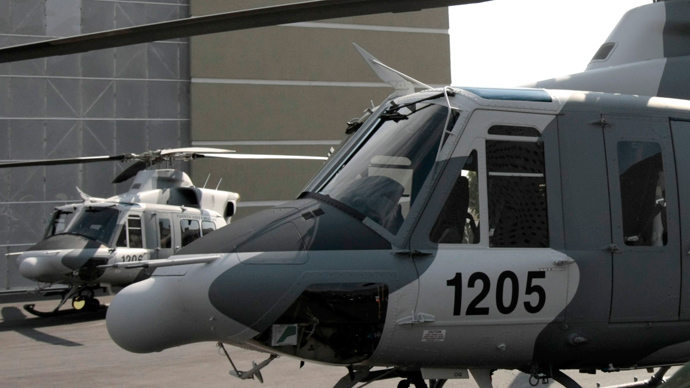 The US Department of Homeland Security has deployed a helicopter to fly over Baltimore, Maryland to measure radiation levels and to examine how officials can respond quickly in the event of an emergency.
Officials told CBS Baltimore that the large chopper will at times fly as low as 150 feet off the ground, in an attempt to measure levels of naturally occurring radiation. In the event of a biological attack, authorities would then be able to measure which areas have been worst affected.
"If sometime in the future you have a reason to be looking for something radiological, it's very necessary to have the original background," said Joseph Krol of the National Nuclear Security Administration.
The chopper is "massive," according to CBS, and much larger than an average news or police helicopter. Yet experts say that using such a vehicle is necessary to best complete the tests.
"There's no faster way to do it. If you're flying over the city and you don't have to stop for traffic, you've got a clear shot," said helicopter Captain Jeff Long.
A number of other cities throughout the US have undergone similar examinations yet, perhaps because the NNSA said tests may take years to complete, residents may be wondering what exactly to expect.
"Flying that low, people will definitely notice it," NNSA aerial mapping manager Johanna Turk told the Baltimore Sun. "Everything that comes out of the earth has some radiation. It's perfectly safe and not harmful, but it is variable depending on where you are, so the purpose is to measure the variations."
This is the latest in a line of precautions that authorities have taken to best prepare for a chemical attack.
Last year - in the weeks before Independence Day in Washington DC, located 40 miles from Baltimore – authorities placed chemical and radiation detectors throughout the US Capitol's transit system. Boston, Massachusetts saw similar measure, with local National Guard units using sophisticated detectors.
Tools for radiation detection are often deployed ahead of large events as well. For the upcoming Super Bowl XLVIII which is set to take place in New Jersey, within eyesight of the new World Trade Center, radiation detectors will play a part in security precautions.
"Our tactical teams have been training throughout the year for different scenarios to include active shooter, bomb threats, and hazards related to chemical biological radiological or nuclear threats," said FBI Special Agent Aaron Ford.
You can share this story on social media: