Black Panther who posted bounty for Martin's killer arrested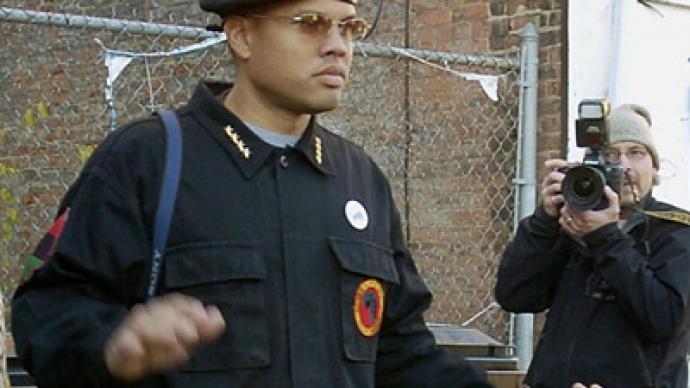 The New Black Panther Party member behind the call for vigilante justice against Trayvon Martin's killer has been arrested.
On Monday Hashim Nzinga was imprisoned for an unrelated weapons charge.According to a Dekalb County Sheriff's arrest warrant, Nzinga had a FN Herstal 5.7 x 28 handgun which was pawned.Over the weekend Nzinga announced to the media that anyone who was able to capture Zimmerman, "dead or alive" would be handed a reward of $10,000.The New Black Panther Party's campaign to track and hunt down Martin's killer was widely promoted with flyers and press conferences all across Sanford, Florida, the location of the black teen's death.The radical group's national chief of staff was arrested during a visit to a probation office by his probation officer. Last month the 49-year-old New Black Party member received a felony conviction for deposit fraud and gun possession was a violation of his parole.On Tuesday Nzinga's bond was ironically set at $10,000 and appeared at a hearing after his arrest by Dekalb County Sheriff's office in Georgia, the Atlanta Journal-Constitution reported.Nzinga's arrest comes in the wake of comments by the lead homicide detective in charge of Trayvon Martin's case saying he wanted to arrest Zimmerman for killing the weaponless teenager.Chris Serino, an investigator at Sanford Police Department, said Zimmerman should have been arrested for manslaughter, but due to the apparent lack of evidence the local state attorney overruled him. State Attorney Norman Wolfinger has refused to comment on the matter.In Florida manslaughter carries a maximum sentence of 15 years in prison.According to an ABC report, from the start Serino voiced his doubts about Zimmerman's account of "self-defense" and wanted to see Martin's killer detained.In an attempt to take matter into their own hands, The New Black Panther Party for Self-Defense called for a militia of black volunteers to help capture Zimmerman, but Martin's relatives believe that more violence isn't going to help and will just make matters worse."We recognize that a lot of people are doing things on behalf of Trayvon Martin," said Sybrina Fulton, the dead teen's mother. "We've decided that we want things to be done peaceful," she added.
You can share this story on social media: