US Army colonel on trial for aiding Iraqi mistress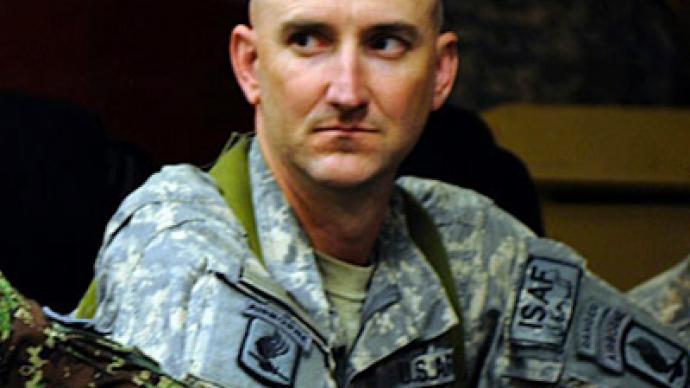 The case against an US Army colonel accused of using military funds to provide for his mistress in Iraq has gotten a little lighter. Military prosecutors have dismissed four of the 21 charges against Col. James H. Johnson III.
Johnson, a decorated commander who previously oversaw the 173rd Airborne Brigade Combat Team, now only faces two charges relating to an affair with Iraqi woman that began during a 2005 deployment in the region. On Sunday Johnson pleaded guilty to 15 counts, not guilty to six other counts, and the court dismissed a separate six. During Monday's hearing, four of the remaining six charges were dismissed.The court says that while on duty overseas, Johnson misused military funding to the benefit of a mistress, Haveen Alladin Alatar, and her father, Alladin Al-Atar, whom he secured Army contracts for to the tune of $74,600 under the guise that he served as a "cultural adviser." Johnson has since said that he knew that those deals were unjust. The court claims that he provided his mistress with a cell phone on which she racked up charges of more than $80,000.The military website Stars and Stripes reports that Johnson has admitted guilt in the charges of fraud; violation of lawful regulations by misusing government vehicles, cellphones and a travel card for personal purposes; making false official statements; conduct unbecoming an officer and a gentleman; adultery; wrongful cohabitation; and bigamy. He had previously pleaded not guilty for the four charges that were dropped on Monday. If Johnson is convicted of the 15 charges that he has already pleaded guilty to, he could be sentenced to as much as 54 years behind bars and four months in confinement. Apologizing to the court over his conduct, Johnson told officials, "It did have a detrimental effect on the unit in that I was subsequently relieved of command" and willingly admitted that "committing adultery violates our Army values." Johnson was married an American woman during the time of his affair. He wed his mistresses this past November, but was not legally divorced from his estranged wife at the time."I'm sure there are certain people who knew I was still married to my estranged wife and would question my morals and values," Johnson told the court. His estranged wife and their two children were present at Monday's trial.Johnson commanded the 173rd Airborne Brigade Combat Team from 2008 until 2011, when he was fired as the US Army began formally investigating the charges.