Army general avoids forced sodomy charges, cops lesser plea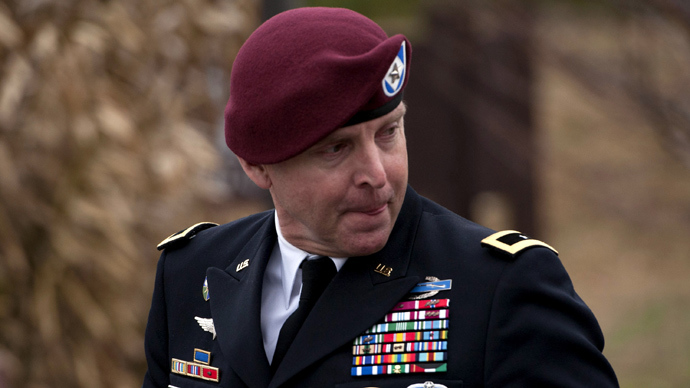 US military prosecutors have agreed to drop sexual assault charges against a top Army general in exchange for his pleading guilty to lesser charges, a development that seems unlikely to satisfy critics skeptical of how the military treats sex offenders.
Brigadier General Jeffrey Sinclair, 51, had been charged with forcible sodomy after allegations from a female US Army captain surfaced. Sinclair, a 27-year Army veteran, could have spent the rest of his life in prison if found guilty. Instead, his lawyer announced that Sinclair will plead guilty to adultery and mistreating his accuser.
Sinclair was accused of victimizing an Army captain who served on his staff in Iraq and Afghanistan for three years, sexually assaulting her, forcing her to perform oral sex multiple times, and threatening to kill the young woman as well as her family if she ever went public with her accusations.
Jamie Barnett, the retired Navy rear admiral serving as an unpaid attorney for Sinclair's accuser, said she stands by her claim that the general assaulted her, adding that she is grateful to be able to "move on with her life" two years after first reporting the assault to Sinclair's commanding officers.
"She is in no way stepping away from the truth of it," Barnett told Craig Whitlock of the Washington Post.
Sinclair pleaded guilty earlier in March to military crimes including having an adulterous affair, requesting nude photos from junior female officers, and possessing pornographic material on his computer while serving in Afghanistan.
He could be sentenced to a maximum of 15 years in prison and possible dismissal from the Army. Sinclair will also face sentencing for the charges he pleaded guilty to on Monday when his punishment is officially handed down in the near future.
Jeffrey Collins of the Associated Press reported that Sinclair had showed little emotion through the year-long trial, with his defense team going so far as to amount a public relations campaign alleging that his accuser was motivated by jealousy. Yet, as part of the deal, the general publicly admitted his culpability in court on Monday, at one point appearing to be overcome with emotion.
"I failed her as a leader and as a mentor and caused harm to her emotional state," Sinclair said. "I created a situation over time that cause her emotional harm," adding later that he had "maltreated" the 34-year-old woman, who was "emotionally invested in a way I was not."
Defense attorney Barnett was unimpressed, telling the AP that Sinclair intimidated the victim and that he "literally sabotaged her career by altering her orders to keep her under his command and refusing her many requests to be transferred. She was literally trapped and bullied by one of the highest ranking officers in the United States Army."
Such scandals have not been limited to the Army, as US military leaders have been dogged by sexual assault accusations against officers throughout the service. The problem has become so commonplace that congressional leaders have spent months debating over which is the best method to solve what increasingly seems to be an entrenched problem.
Senator Kirsten Gillibrand a New York Democrat, proposed a controversial bill that would have stripped military commanders of the ability to decide whether a sexual assault case should be prosecuted. The measure fell short by five votes, but has started a national conversation about a topic has been ignored for years.
"The Defense Department has been promising the American people for a long time that they're working on the problem of sexual assault," Senator Charles Grassley (R-Iowa) told Helene Cooper of the New York Times. "Enough is enough."