Arizona bill forces cities to sell turned-in guns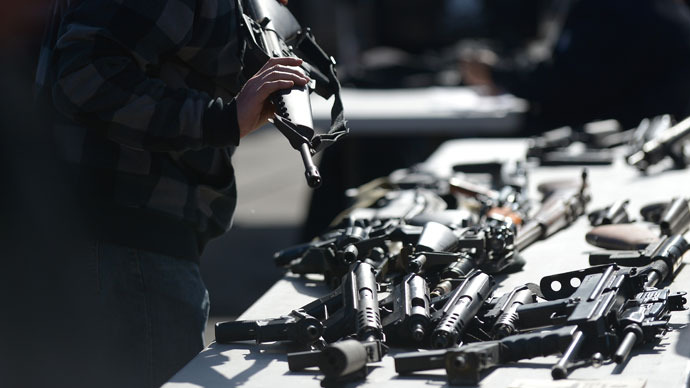 New legislation would force Arizona cities and counties to sell all guns surrendered at community buyback events, rather than destroying the weapons. The law has sparked controversy, since it could bring murder weapons back on the streets.
The debate involves finances and safety: state senators who voted for the bill argue that guns are public assets worth money, while opponents argue that they want the weapons destroyed and off the streets.

House Bill 2455 closes a loophole in a 2012 law requiring police agencies to sell seized guns. Since voluntarily surrendered guns are not seized, some organizers of buyback programs have chosen to destroy the weapons – a procedure that proponents of the bill call a waste of money.

The new bill passed the Senate 18-12 on Tuesday, and is now headed to Gov. Jan Brewer's desk for approval. If Brewer signs it into law, then all surrendered guns will be sold to licensed firearms dealers, who can then offer them for resale in their stores.

Senate President Andy Biggs (R-Gilbert) argued that this would defeat the purpose of surrendering firearms, since owners would then be better off selling the weapons themselves and raking in the extra cash. The whole point of surrendering them, he said, is often to take them off the market.

Sen. Steve Farley (D-Tucscon) cited an example that demonstrates the effect of such a law on the controversial resale of murder weapons. Jared Lee Loughner, an Arizona man who pleaded guilty to 19 charges of murder and attempted murder for the 2011 shooting in which US Rep. Gabrielle Giffords was severely injured, had his gun seized from him upon his arrest. Last year's law requires law enforcement to resell seized weapons – meaning that Loughner's 9 mm Glock pistol would have been back on the market. The latest bill broadens this law to bring all firearms, regardless of their history, back onto the shelves of firearms dealers.

State Sen. Steve Gallardo (D-Phoenix) urged the legislature to stop wasting time on such bills and instead start a serious conversation about gun ownership.

"We should have a serious debate on firearm safety and accessibility," he said before the vote took place. "We have the most liberal gun laws in the nation and that has to stop. We need to start working on how to get guns out of the hands of criminals."

Arizona has the fourth-highest rate of gun deaths in the US, according to Sen. Olivia Cajero Bedford (D-Tucson), who cited a study linking gun violence to loose gun laws.

But proponents of the new legislation believe that there isn't much they can do to stop the violence – and that the state should be concerned about saving money where it can, as well as providing the public with weapons to protect themselves for malicious people.

"Many here in this body want to blame 30-round magazines and semiautomatic weapons for violence," Sen. Judy Burges (R-Sun City West) told the legislature. "Unfortunately, murder, violence and insanity are built in to the human condition and likely always will be… There are two types of animals: predators and prey. When we take away individuals' right to defend themselves, we create more predators."

Sen. Rick Murphy (R-Glendale) tried to steer the debate in another direction, telling the Senate that the bill is "about protecting taxpayers", and should not invoke a debate on gun rights.

If the bill passes – which is likely, since Brewer is a devoted gun advocate – it will be illegal for any cities or counties across Arizona to destroy weapons, regardless of how they were acquired or what they were used for in the past.