Apple accused of selling customers' personal information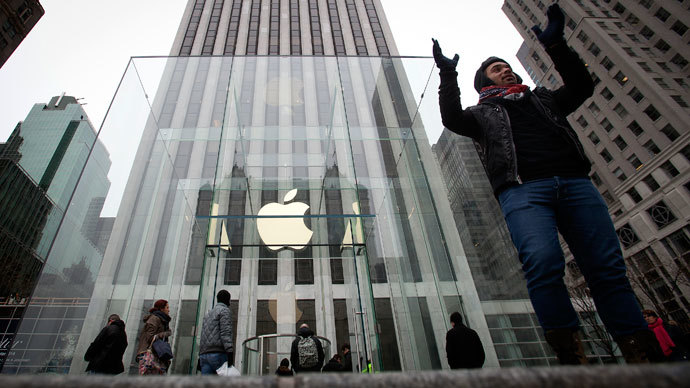 Apple has been hit with a hefty class action lawsuit, courtesy of three men from Massachusetts who say the computer company illegally collected and sold its customers' personal information.
The lawsuit filed this week in the Boston office of Massachusetts District Court accuses Apple of compelling customers to provide their zip codes while making credit card purchases at stores.
State law prohibits all entities that accept credit cards from requiring users to submit any personal identification information (PII) that's not necessary in order for the transaction to be completed. Apple collected the zip codes of their customers in violation of this statute, the plaintiffs argue, then sold that data to third-party companies for marketing purposes.
According to the lawsuit, plaintiffs Adam Christensen, Jeffrey Scolnick, and William Farrell shopped for and purchased items from Apple retail stores in Massachusetts between 2012 and 2013.
"To consummate each purchase, plaintiffs elected to use their credit card as their chosen form of payment," a copy of the suit obtained by the website Patently Apple alleges. "As a condition of using their credit cards, plaintiffs were required by Apple to enter personal identification information associated with the credit card, including their full and complete zip codes. Apple would not allow plaintiff to complete their purchases without supplying such information."
"Apple is not required by credit card issuers to require this information from consumers," the suit continues, suggesting that the computer company acquired the information in violation of state law.
Furthermore, the plaintiffs argue, Apple acknowledges openly on their website that they reserve the right to "make certain personal information available to strategic partners that work with Apple to provide products and services, or that help Apple market to customers."
"First, Plaintiffs and the Class have been injured because they have received unwanted marketing materials from Apple as a result of having provided their zip codes when using credit cards at Apple. Second, Plaintiffs and the Class have been injured by Apple's sale of Plaintiffs' and the Class' PII to third-parties, which was collected by Apple in violation of Mass. Gen. Laws chapter. 93 § 105(c).And third, Plaintiffs and the Class have been injured because Apple misappropriated their economically valuable PII without consideration," the complaint alleges.
If the court agrees, Apple would be deemed responsible for committing what the state of Massachusetts considers an "unfair and deceptive trade practice." The plaintiffs are asking for Apple to fork over $75 per violation, according to the Apple Insider website, as well as interest on those damages, litigation expenses, attorneys' fees, and "such other and further relief as may be just and proper." Apple would also be required to stop collecting PII across the state.
Attorneys for the plaintiffs had previously contacted Apple, the website recalled, and attempted to settle outside of court. If the company is now found to have crossed the line, anyone who had to surrender their zip code while conducting business with Apple retailers in Massachusetts could ask for relief as well.
The latest news comes just days after the computer company settled a dispute with the United States Federal Trade Commission after customers claimed they were improperly charged for millions of dollars' worth of mobile phone applications accidentally purchased through Apple's iTunes stores. As part of that settlement, Apple agreed to refund its customers to the tune of about $32.5 million.
You can share this story on social media: