Tens of thousands march in Washington anti-abortion rally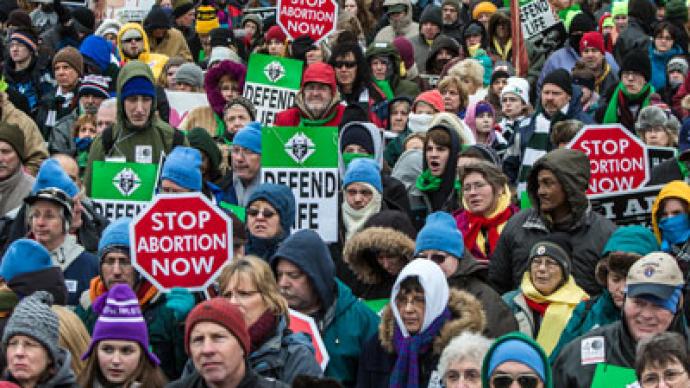 A massive anti-abortion march hit Washington, DC, on Friday as tens of thousands opposed to the right to choose descended on the National Mall to protest Roe v. Wade, the landmark 1971 decision that legalized the termination of pregnancies.
Participants in the annual March for Life walked to the steps of the US Supreme Court carrying signs reading "Defend Life," "I regret My Abortion," "1973-2013 Forty Years of Legal Fetal Homicide," and many others.The event comes on the 40th anniversary of Roe v. Wade, the US Supreme Court decision that made it a constitutional right to terminate a pregnancy under some circumstances.Despite freezing temperatures the turnout was huge, highlighting the sensitivity of the issue for the nation. But despite President Barack Obama's commitment to women's "reproductive freedom," state legislatures continue to mull various restrictions to women's rights to terminate a pregnancy.Earlier this week, abortion opponents marked the anniversary with workshops, prayers and calls for more limits on the right to choose.Members of numerous religious organizations attended the march, and even Pope Benedict XVI voiced his support to the demonstrators, tweeting, "I join all those marching for life from afar, and pray that political leaders will protect the unborn and promote a culture of life."Among the speakers at the event was former Pennsylvania governor and former Republican presidential nominee Rick Santorum – a staunch opponent of the constitutional right to terminate a pregnancy. He said the cause was made up of people who every day advocate for their position outside women's health clinics and at crisis pregnancy centers."This movement is not a bunch of moralizers standing on their mountaintop preaching what is right," Santorum said.
I join all those marching for life from afar, and pray that political leaders will protect the unborn and promote a culture of life.

— Benedict XVI (@Pontifex) January 25, 2013
You can share this story on social media: