Four officials charged in Anonymous-propelled Steubenville rape case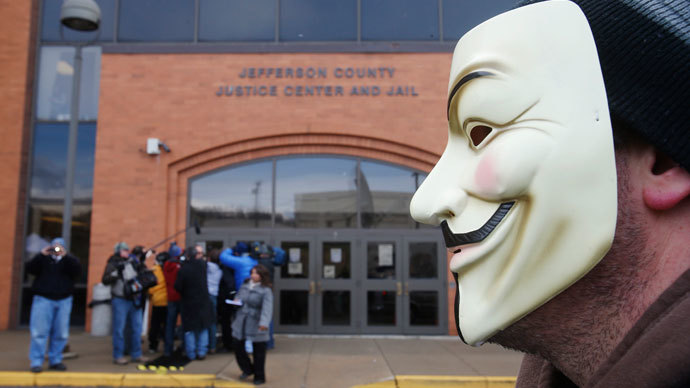 Officials in Steubenville, Ohio have indicted four new individuals with charges related to the 2012 sexual assault of a 16-year-old West Virginia girl and the scandal surrounding it.
Ohio Atty. Gen. Mike DeWine announced during a Monday afternoon press conference that the superintendent of the Steubenville school system and three others have now been charged with crimes, expanding even further a widespread scandal that has soured the town's reputation and already led so far to the incarceration of two teenagers.
This past March, Judge Thomas Lipps found two athletes from the Steubenville High School "Big Red" football team — Ma'lik Richmond, 16, and Trent Mays, 17 — guilty of raping a drunk teenage girl the previous August. It took roughly four months for news of the incident and the lack of action being taken by local officials to surface and prompt national media coverage, the likes of which was largely spearheaded by press campaigns orchestrated by the hacktivist group Anonymous and various affiliates, including individuals who obtained and then published photographic and video evidence from the night of the crime.
Under the branding of campaigns called #OpSteubenville and #OpRedRoll, Anonymous and members of the group Knight Sec propelled the largely-ignored rape case to mainstream status, albeit four months after the assault in question took place. Nevertheless, the groups' efforts have been considered monumental in raising awareness of the case and bringing Richmond and Mays to justice, and hacktivsits have seen analogous results with other initiatives spawned in the months since due to unfortunately all-too-similar incidents.
After Richmond and Mays were sentenced to one and two years, respectively, DeWine created a 14-person grand jury to further investigate the crime, specifically allegations that members of the "Big Red" athletics department and the Steubenville community-at-large purposely kept information about the incident under wraps. At Monday's press conference, DeWine announced that 50-year-old Steubenville City Schools Supt. Michael McVey has now been charged as a result of that investigation with one count of tampering with evidence, a felony, two felony counts of obstruction of justice and the misdemeanor charges or making a false statement and obstructing official business.
Also indicted by the panel are volunteer football coach Matthew Bellardine, Pugliese Elementary School principal Lynnett Gorman and Steubenville High School wrestling coach Seth Fluharty. Bellardine was charged with allowing underage drinking, obstructing official business, falsification and contributing to the delinquency of a minor, while the other two were both charged with failing to report child abuse.
Seven months after the grand jury was first convened, DeWine saluted the panel's work and suggested that no further individuals will be named in crimes related to the assault.
"It took a long time to get all the information the grand jury needed so they could make their decisions. Barring any newly discovered evidence, I believe the grand jury's work is done," DeWine said.
The Attorney General's Office did not immediately release specifics as to what the four individuals did to be charged with those crimes, but during Monday's statement he said of them: "What you have is people who were not worried about a victim. They were worried about other things."
"People made bad choices and the grand jury said there are repercussions," DeWine said.
According to DeWine's department, Superintendent McVey stands to face a maximum of nearly eight years in prison if convicted on all counts. Belerdine, 26, stands to face at the most one year and 265 days in jail, and Fluharty and Gorman could each get away with serving only one month for their alleged crimes.
"Some may ask why others were not indicted," DeWine said during Monday's presser. "It is simply not sufficient that person's behavior was reprehensible, disgusting, mean-spirited, or just plain stupid," he said.
You can share this story on social media: