Muslims and police fight at New York theme park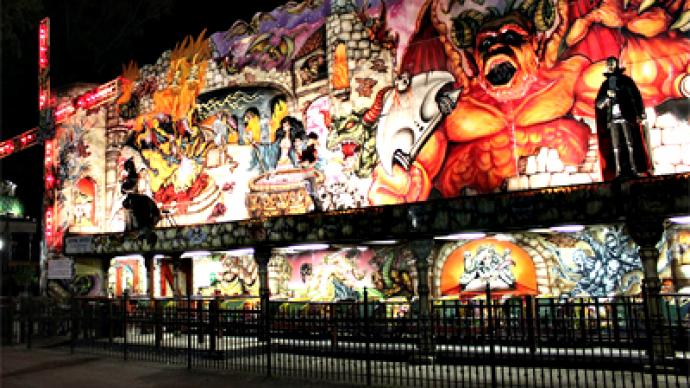 A brawl at a New York amusement park left two park rangers injured and 15 people behind bars after a scuffle erupted over Muslim women and the headscarves they were asked to remove.
Around half of the 6,000 visitors at New York's Rye Playland on Tuesday were members of a Muslim tour group celebrating the end of Ramadan. Though they went to the amusement park to have a good time, they are saying that they were discriminated against and traumatized by the experience, which ended with a violent fight between park guests and police. Cops from Westchester County say the incident erupted after women wearing Muslim hijab scarves attempted to board amusement rides that prohibited any head coverings. The women were allegedly offered refunds after being refused entry, but before long visitors began arguing over the ordeal. From there park guards stepped in, a fight broke out and Rye Playland's gates were closed for hours while authorities tried to get everything under control.A Gannett publication covering the lower Hudson Valley area of New York reports that over 60 police vehicles from nine different agencies swarmed onto the park in an effort to subdue the scuffle. Upwards of 100 cops are believed to have responded.Muslims that were at the park are saying they are the victims of religious persecution for wearing holy garb, but officials are responding that they were just looking out for the safety of the park's patrons. Westchester Deputy Parks Commissioner Peter Tartaglia now says in a statement that the Muslim visitors were "painstakingly" advised of the headgear ban before they arrived at the park, which applies to some but not all attractions. "It's a safety issue on ride. If it's a scarf, you could choke," Tartaglia says. "We don't discriminate. A baseball cap is headgear," he adds to the Post. "We respect the religious purpose of wearing it, but we have several rides that you cannot go on with any sort of headgear.""Our headgear policy is designed to protect the safety of patrons and safety is our first concern…This policy was repeatedly articulated to the tour operator, but unfortunately the message did not reach some of the members of his group," Tartaglia adds to Fox News.Some of those members are now saying that they only messaged they received was a violent one, as authorities used excessive force to arrest those involved in the melee. Several women involved in the scuffle say they were pushed to the ground and beaten by cops before being arrested after the argument broke out. "They treated us like animals, like we were nothing," Ayman Alrabah, 24, of Brooklyn, tells the New York Daily News. She said police came after her husband with dogs and sticks while her 4-year-old son watched his father be arrested for standing up for his family's right to practice their religion.John Hodges, chief inspector of Westchester County Public Safety, says in a statement that the police did not use excessive force.Zead Ramadan, president of the Council on American-Islamic Relations, thinks that miscommunication on both parties is to blame for the incident. "The people feel like victims, and the police feel like they were just doing their jobs. Personally I think things got a little out of control on both sides," Ramadan tells the New York Daily News. Two of the responding park rangers were injured during the brawl. Three women were among the 15 that were brought into jail and later released following charges of disorderly conduct and assault.
You can share this story on social media: