Amish hair-cutting bullies convicted of hate crimes
Published time: 21 Sep, 2012 07:25
Edited time: 21 Sep, 2012 11:25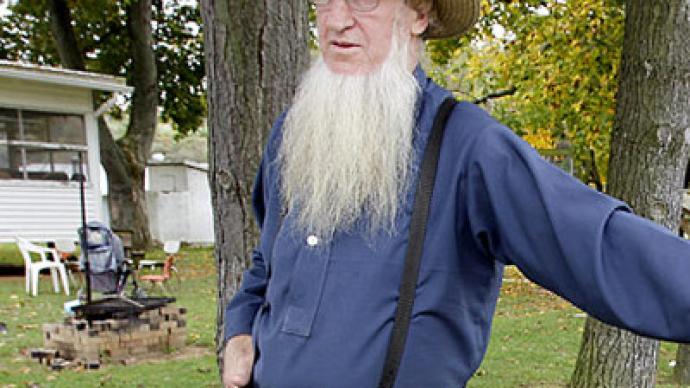 A US federal jury has found 16 Amish men and women guilty of hate crimes. Samuel Mullet and his followers terrorized an Ohio neighborhood, cutting men's beards and women's hair to extract obedience.
Mullet, 66, orchestrated the attacks last fall, with his sons and other defendants carrying them out, prosecutors told the jury. Groups of Mullet's followers invaded homes of the victims mostly at nighttime, threw them down and sheared off their beards and hair. In many instances the perpetrators attacked their own family members.
Defendants were targeting hair because it carries spiritual significance to the Amish, members of a reclusive sect of Christian traditionalists. Mullet also mocked his victims in jailhouse phone calls, prosecutors said.
The jury sided with the argument that Mullet and others were suppressing the victims' practice of religion, convicting them on almost all charges.
Before his arrest last November, Mullet defended his right to discipline those who opposed his authoritarian rule, saying his actions were based on his religious beliefs.
The defense acknowledged the episodes took place, but said they did not constitute hate crimes, as prosecutors charged. The argued that the hair cuttings were motivated by family feuds
Witnesses told the jury that Mullet held the Bergholz settlement, which he founded two decades ago, under strict control and that his religious practices and methods of disciplining deviated from Amish traditions.
In one of the more shocking revelations during the trial, a witness said Mullet practiced sexual "counseling" of married women, including his daughter-in-law. Another said he forced men to sleep in chicken coops as a form of punishment.
The defendants involved in the hair cutting face prison terms of up to 10 years or more. Among the charges against them were conspiracy, obstruction of justice and tampering with evidence
Edward G. Bryan, Mullet's lawyer, said that his client planned to appeal, in part on the grounds that the federal law had been misapplied.