Freedom of (some) information: US 'national security' hampers data access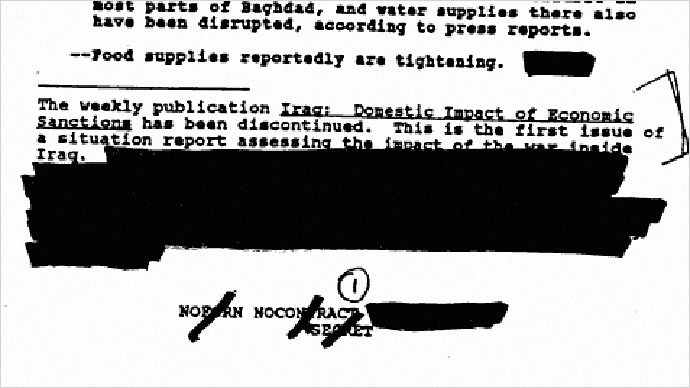 Despite President Obama's promise that openness will prevail, America's government agencies continue to tighten their grip over free public access of state documents, AP reports. Papers are mostly being censored to conform to the security policy.
America's Freedom of Information Act has been increasingly sacrificed for the sake of national security, revealed the latest analyses of the Associated Press.
Having examined the annual document workflow of the 33 federal government agencies, the Associated Press concluded that just over a third of the private requests applied to US government agencies in 2012 were turned down altogether for various reasons, the most common of which are matters of national security.

In some cases the requested records could not be found, while in others the requests were determined improper or the requestor refused to pay for the copies.
A considerable part of the remaining nearly two-thirds of the requests that were finally handed over to the applicants had been either preliminarily censored or selectively curtailed.
White House spokesman Eric Schultz reported of great effort the government agencies have demonstrated responsiveness in 2012 to "the president's call for greater transparency."
Though the administration has answered a record number of requests in 2012, still matters of the national security withheld information in at least 5,223 cases in 2012, a sudden increase from 4,243 cases in 2011 (and even fewer - 3,805 cases - during  Obama's first year in office).
The US State Department answered just 57 per cent of its requests, a dramatic fall from 75 per cent in 2011.
Up to 60 per cent of 3,586 requests applied to the CIA were either censored or withheld (49 per cent in 2011).
The Pentagon's National Security Agency monitoring internet traffic and phone calls worldwide follows closely with 2,390 denials last year.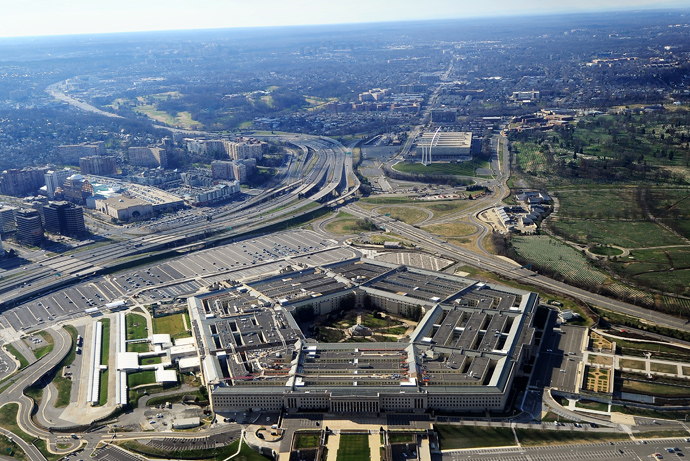 The FOIA act is commonly understood as a remarkable index of Washington's transparency. Any citizen can ask for a copy of federal records for a symbolic cost – but only if this poses no threat to national security, personal privacy, business secrets or national decision-making confidential data.
Official documents are often needed as evidence in court, but the latest tendencies show that it is no longer enough to be a federal judge to resolve issues where governmental data is involved.
When The New York Times and the American Civil Liberties Union demanded access in January to government's legal justification for drone attacks to kill terrorist suspects, including the American citizens, abroad, they were denied the right.

Federal judge Colleen McMahon of New York had to resort to literature, citing Alice in Wonderland and Catch-22, after ruling against the demand of NYT. And even her ruling in part became secret, being sealed and available to the government's lawyers only.
"I find myself stuck in a paradoxical situation in which I cannot solve a problem because of contradictory constraints and rules — a veritable Catch-22," Judge McMahon said. "I can find no way around the thicket of laws and precedents that effectively allow the executive branch of our government to proclaim as perfectly lawful certain actions that seem on their face incompatible with our Constitution and laws, while keeping the reasons for their conclusion a secret."
Journalists who often need urgent information for breaking news probably suffered the most last year. So-called 'expedited processing' was granted by the US government in only 17 per cent of cases (24 per cent in 2011). Remarkably enough, the CIA denied all such requests in 2012.
The US government agencies under the Obama administration continue to enhance the secrecy policies to an extent even greater than that at the times of George W. Bush and the laws supposed to prevent them from doing so, like the Freedom of Information Act, are losing their importance.
"FOIA is an imperfect law, and I don't think that's changed over the last four years since Obama took office," said Alexander Abdo, a staff attorney for its national security project at American Civil Liberties Union (ACLU). "We've seen a meteoric rise in the number of claims to protect secret law, the government's interpretations of laws or its understanding of its own authority. In some ways, the Obama administration is actually even more aggressive on secrecy than the [George W.] Bush administration," he told AP.
In 2012 American citizens submitted over 590,000 FOIA-based requests for information.
The leader of the number of requests among the agencies is the Homeland Security Department, requests to which almost doubled due to immigration files demands, reaching 190,589 new requests last year. 
Four agencies, including the Office of National Drug Control Policy, opted not to publish their annual FOIA performance for 2012 at all.

You can share this story on social media: