Man billed for ambulance that arrived after his father passed away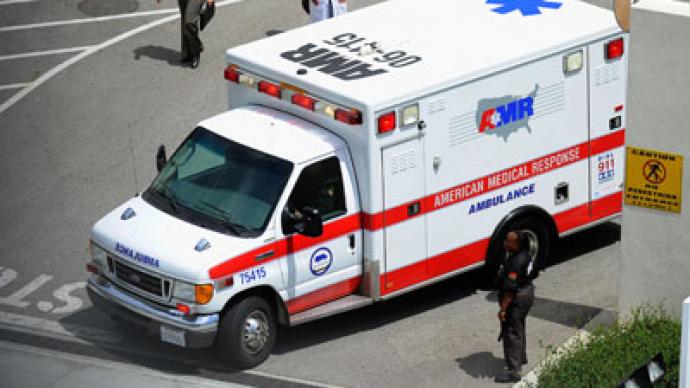 When 71-year-old Durand Ford Sr. was struggling to breathe on New Year's Day, his family called 911. But the man died waiting for an ambulance that took 40 minutes to arrive – and that man's family has now received a $780.85 ambulance bill.
The hefty bill adds insult to injury. Durand Ford Jr., whose father died waiting for help that came too late, said he is angry about the city's behavior. His 71-year-old father went into cardiac arrest on New Year's Eve and his family called 911 shortly after 1 am, seeking emergency medical assistance.In Washington DC, ambulances are staffed by firefighters. The DC Fire and Emergency Medical Service Department responds to 911 calls. But on New Year's, the DC FEMS had no ambulance available and sent a fire truck instead, which was useless in saving the old man's life.An ambulance was eventually dispatched from nearby Prince George's County, but it did not arrive until 1:58 am. By that time, Ford Sr. had already passed away."We're even more saddened because of the circumstances that surround my father's death," Ford Jr. told NBC Washington.After coming to terms with the conditions surrounding his father's death, Ford opened his mailbox this month, only to add feelings of outrage to an already-dismal situation. The DC FEMS had billed Ford $780.85 for the ambulance that failed to arrive early enough to save his father."I feel angry. Upset. I'm disturbed that we even received this bill," he said."We're still grieving about the situation," he added. "We're very angry about what happened and the service we did not receive from the district."NBC discovered that on New Year's Eve, more than 50 DC firefighters had called out sick, which is a large chunk of the 340 firefighters that the city is typically staffed with. On an average day, about 20 or 30 firefighters do so. But on New Year's Day, 97 called in.  The firefighters' union calls this "unusual", but a spokesperson told NBC that this was not coordinated."I was very disturbed to learn of the low levels of staffing of firefighters on New Year's Eve," said Ward 6 Councilmember Tommy Wells. "This put the safety of District residents in jeopardy."Ford has called for a full investigation to see "what's going on in this department" and DC Council member Yvette Alexander has pledged to help him resolve the matter regarding the ambulance bill.DC FEMS has come under scrutiny before for delayed transportation services. When a 93-year-old woman suffered a life-threatening head injury in August and called 911, responders made a move that almost cost the woman her life. To switch vehicles, one ambulance drove directly past the woman's home to a station on the other side of the county to switch to a different ambulance. The switch cost responders a 15-minute delay. The woman survived, but was in critical condition when she arrived at the hospital.Throughout the US, ambulance bills are also a controversial matter. In late 2012, the Huffington Post reported that a Sacramento man was charged an ambulance bill of over $3,000 to be transported from a doctor's office to the hospital next door.Requesting an ambulance is no cheap matter: patients pay hundreds, sometimes thousands of dollars for the cost of the ride and paramedics. And when a patient passes away, the hefty bill is often sent to the family of the deceased.
You can share this story on social media: