Toddler killed after taken by Child Protective Services from her parents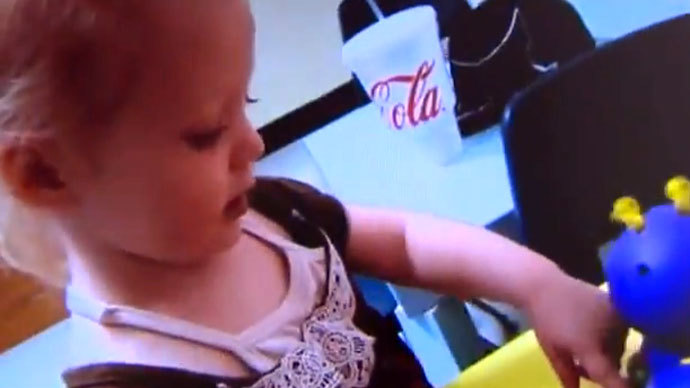 The foster mother of a 2-year-old Texas girl has been charged with murder after the toddler she brought into her home earlier this year died last week from a severe head injury.
Alexandria Hill was placed into the custody of 54-year-old Sherill Small in January after the Texas Department of Family and Protective Services determined she was being neglected by her previous foster parents. Now Small is being held on $100,000 bond after Hill passed away last Wednesday while in her care.
The girl's biological father, Joshua Hill, told KVUE-TV that he and Alexandria's mother lost full custody of their daughter last November after the DFPS accused them of "neglectful supervision." Mr. Hill said the agency made that determination "because her mother and I smoked pot at the time." According to the father, the parents only smoked while their daughter was asleep.
"We never hurt our daughter," Mr. Hill told KVUE on Thursday. "She was never sick, she was never in the hospital, and she never had any issues until she went into state care."
It was only then, Hill said, that things started to go wrong.
"She would come to visitation with bruises on her, and mold and mildew in her bag. It got to a point where I actually told CPS [Child Protective Services] that they would have to have me arrested because I wouldn't let her go back," he told KVUE.
Then seven months ago, Alexandria was placed into Small's house in Rockdale, Texas, where her biological parents were allowed to make occasional visits. That all ended last week, though, after the girl died at an area hospital.
Hill told KVUE that he got a phone call Monday night telling him his daughter was on life support at the Scott and White Children's Emergency Hospital in Temple, Texas.
"They wouldn't tell me what condition she was in or what was wrong or what had happened. The only thing they would tell me is I needed to be there. When I got there, I found out that Alex was in a coma," he said.
To make matters even more confusing, the adopted mother altered her story after Alexandria was admitted to the hospital. First Small told investigators during a routine police report that she had been spinning the girl around in circles when she accidentally let go of Alexandria's hands, sending the child to the ground where she hit her head on the carpet. During a physical examination, however, doctors found three symptoms of traumatic brain injury and began asking more questions. The foster mom later admitted to being frustrated with the girl and swinging her over her head and down near the ground with a "lot of force" three times. On the third time, Alexandria's head hit the floor.
Police arrested Small on Thursday after her foster child's death and charged her with criminal homicide, a first-degree felony in Texas. An autopsy report released the following day concluded that blunt-force trauma to the head caused the girl's death.
A spokesperson for the Texas DFPS told KXAN News that Small was previously accused of neglect after a child in her care was reportedly suffering from bruising and lead poisoning, "but no deficiencies were found." A second foster child was removed from her care on Monday.
You can share this story on social media: