Deadly unknown respiratory disease kills two in Alabama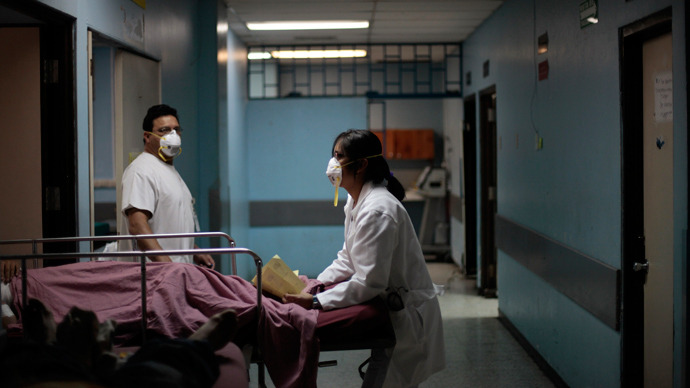 A mysterious respiratory illness has claimed the lives of two people in southeast Alabama, and caused five other hospitalizations. The illness has left health officials baffled, who have no idea what this disease is or where it originated.
The mysterious illness has sickened its victims with flu-like symptoms, including a shortness of breath, fever, and coughing. Of the seven people who were hospitalized with the new disease, two have died, Alabama Department of Public Health spokeswoman Mary McIntyre told AP.
Scientists are currently studying lab specimens from the seven victims, and health officials are urging hospital staff to wear masks and gloves when coming in contact with the infected patients.
All seven patients were from Houston County, and McIntyre says there have been no out-of-state reports of this illness. The victims are all adults ranging in age from early 20s to late 80s, and have all been hospitalized in the Southeast Alabama Medical Center starting last Thursday.
"We're only aware of the Southeast, but we don't know – we haven't received reports from anywhere else," McIntyre said. "That's why we're trying to get the information out."
There is currently no evidence that the victims traveled out of the country or picked up the illness outside of the US. Researchers do not currently believe that this illness is related to a deadly new coronavirus, coined the Middle East Respiratory Syndrome, which has infected 40 people and killed 20 who all traveled to or lived in the Middle East. The novel coronavirus has recently surfaced in France, the UK and Saudi Arabia.
Health officials also do not believe that the victims acquired the H7H9 virus, which has caused 17 deaths and 82 illnesses in China. This virus is a strain of the bird flu and spreads through person-to-person contact.
But although health officials doubt that the Alabama patients acquired either of the two foreign pathogens, McIntyre told NBC that nothing is being ruled out, since laboratory test results are not yet complete.
"At this point it's too early to tell," she said. "That's why we called it a respiratory illness of unknown origin."
One of the infected patients tested positive for H1N1 influenza A, but researchers believe this victim may have fallen ill with the unknown disease simultaneously. 
The Centers for Disease Control and Prevention appear to have no knowledge about the illness. The agency has so far directed media questions to Alabama health officials.
State health officials are urging Alabama residents to take precautionary steps to avoid getting sick.
"Be sure to cover your cough, wash your hands frequently, don't cough on your hands and then shake somebody else's hands, to try to prevent from spreading stuff," McIntyre said during a Tuesday morning press conference, while trying to encourage Alabama residents not to panic.
You can share this story on social media: