Air Force shoots down its own Afghan super-spy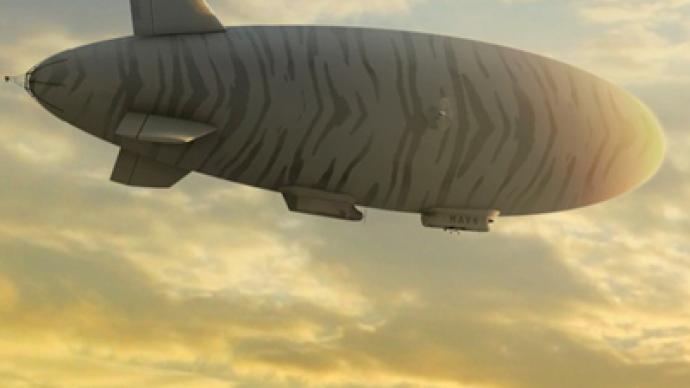 A lot of hot air comes out of Washington, but for now none of it will be inflating the surveillance blimp that the Pentagon has been working on. Research has been halted on the Blue Devil Block 2 — but only after spending $140 million on it already.
At this rate, it looks like the Air Force's 370-foot-long Blue Devil Block 2 will never get off the ground. The Pentagon has already spent millions of dollars on the massive aircraft, but with the price tag now expected to amount to a figure substantially larger than originally assumed, the latest budget figures reveal that the Air Force won't be allocating any funds for further research.Until now, the Blue Devil Block 2 blimp was slated for deployment on April 15. The plan was to put the big balloon over the skies of Afghanistan, where its DARPA-developed technology would allow the US Defense Department to scan 36 miles at a time from an elevation exceeding 20,000 feet from the ground. DefenseSystems.com reported last October that Air Force officials were weary that Congress wouldn't cut them a check to keep the project going, which was then expected to cost $211 million. So far $140 million has been invested in the craft, but with no more money being extended at this time, the only thing up in the air is the Blue Devil Block 2's future.Wired reports in their own write-up that on top of construction costs, the price of operating the object, once airborne, was expected to amount to maybe $45 million. That was an early estimate, however. Now taking into account refueling the craft and maintaining repairs, operating costs are now expected to run at around $180 million at this rate. What does that cover? How about essentially a lightweight, airborne hunk of machinery that serves the purpose of surveillance drones but with several times the spying capabilities. Instead of sending its intel over to command stations for processing like drones do, the blimp would render all of its research onboard using a highly sophisticated supercomputer. To the military, they call this kind of craft a C4ISR aircraft, which is short for Command, Control, Computers, Communication, Intelligence Surveillance and Reconnaissance. Putting it over Afghanistan, however, also has the Pentagon calling into question how wise it is to invest any further, given that the craft would be an easy target for insurgents and warrant regular repair.Unless the Pentagon puts millions of dollars on desk of the blimp experts who've spent the last year on the Devil, though, this project will be called a complete and utter failure — and nothing else.Earlier this week, the Air Force also temporarily grounded a fleet of F-22 fighter jets. After no fewer than three incidents being reported by pilots commanding the F-22 Raptors, a military base in Alaska suspended all operations of a fleet, which costs Americans $77.4 billion to operate.
You can share this story on social media: