Air Force asks sports network to help analyze drone intelligence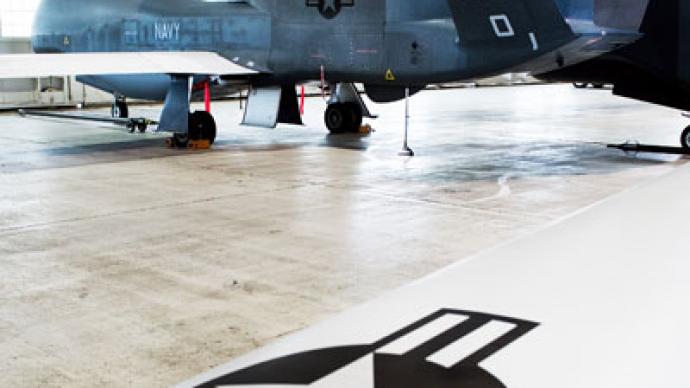 What do you do when information gathered by thousands of remote-controlled killing machines flying across all corners of the Earth simply becomes too much to process? Naturally, the Air Force has approached ESPN for answers.
With United States military drones capturing 68-times more video now than a decade earlier, Uncle Sam is stretched pretty thin in terms of divvying up sets of eyes to scope out surveillance footage from the remotely-piloted spy planes. In 2011, unmanned aerial vehicles collected 327,384 hours of video from surveillance cam-equipped UAVs, and understandably that's a lot to look at, even when you're sitting on the most expensive and advanced arsenal of equipment in the world. Now USA Today reports that, in order to help simplify the ever-expanding trove of intelligence collected from drones, the Air Force has asked the ESPN sports network for assistance.According to an article from the paper's Jim Michaels, the Air Force has reached out to ESPN recently in hopes that the sports station's video analysts will have some ideas about how to process hours upon hours of sensitive footage captured by drones. The intelligence that's picked up by hovering drones in areas of Pakistan and Afghanistan can often help counterterrorism officials thousands of miles away determine when and how to hit suspected insurgents with missiles that be fired from those very same UAVs. As the footage piles up, though, the Air Force is having a harder and harder time finding ways to quickly and efficiently process the information. "We need to be careful we don't drown in the data," David Deptula, a retired Air Force lieutenant general and a senior military scholar at the Air Force Academy, explains to Michaels. "You can't catch bad guys unless you know where they are and what they're doing," he says.Granted, without drone-captured video footage, America's foreign wars could be a bit bloodier. By sending drones to collect intelligence, the military can avoid putting boots on the ground in hostile territories. So efficient is the technology, in fact, that surveillance drones are expected to be prevalent domestically by the end of the decade. Meanwhile, though, the Air Force is at a loss in terms of finding a way to comb through the data."They're looking at anything and everything they can right now," Air Force Col. Mike Shortsleeve, commander of a unit that monitors drone videos, adds to Michaels. Apparently, that involves asking a cable television sports station for advice. Per Michaels' article, "Air Force officials have met with the sports cable network ESPN to discuss how it handles large amounts of video that stream in."Retired Lt. Deptula tells the paper that the powwow between the Pentagon and ESPN "resulted in no technological breakthroughs, but helped in developing training and expertise" for the Air Force. For example, reports Michaels, the Air Force may be able to adopt some techniques used from ESPN to analyze an over-flowing feed of sports footage sent into their own headquarters.Michaels writes: "Much of what drones do now are called 'pattern of life' missions which involve staring down at a compound for days. That information can help avoid civilian casualties, for example, by determining when children leave for school every day before a raid is launched."The reporter goes on to same that those "pattern of life" missions may be helpful, but are incredibly time-consuming since the Air Force doesn't have the proper technology to automate the monitoring of the feeds."The real value added would be if I could have that tool go back and say, 'How many times has this vehicle appeared in this geographic area over the last 30 days?' and it automatically searches volumes of full-motion video," Col. Jeffrey Kruse, commander of the 480th Intelligence, Surveillance and Reconnaissance Wing, explains to Michaels.Could the Pentagon borrow from ESPN in order to use the same technology that keeps track of, say, how many yards a pigskin is hurdled along the length of a football field? Perhaps. USA Today reports that footage captured by surveillance drones overseas is imperative in helping to determine when to blow up a building that's occupied by insurgents, and when to avoid one that's brimming with school kids and other innocent civilians. US President Barack Obama has said that drone strikes have not killed a substantial number of civilians in order for him to end the operation. With other sources saying that hundreds if not thousands of innocent people have been executed by UAVs though, it may be time to take a cue from ESPN. How, exactly, is still up in the air. Meanwhile, so are the drones.