US-funded Afghan hospital project bought gas for $500-a-gallon, not market-rate $5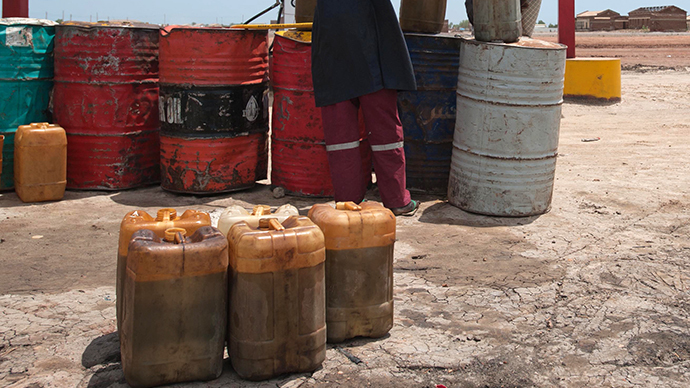 A floundering Afghan hospital project funded by the United States paid $500 per gallon of gas, a new report issued by a government watchdog revealed on Wednesday.
The report, authored by the Special Inspector General for Afghanistan Reconstruction (SIGAR), also uncovered that the hospital being constructed in the Paktiya province similarly overpaid for other basic necessities, to the tune of $507,000. The 100-bed hospital is almost two years behind schedule, due to mismanagement as well as "active insurgency" in the area.
"IOM paid the contractor $300,000 for 600 gallons of diesel fuel — a cost of $500 per gallon," reads the SIGAR report. "According to IOM officials, the market price in Afghanistan for diesel fuel should not exceed $5.00 per gallon."
In addition to overpaying contractors for fuel, USAID's implementing partner, the International Organization for Migration (IOM), similarly paid more than 20 times the market rate for a heating device.
"In another instance, IOM paid $220,000 for an automatic temperature control device that should have cost between $2,000 and$10,000," the report states.
"IOM could not provide us with a vendor invoice for either of these payments," the report continued. "USAID did not discover the overpayments and reimbursed IOM for these unwarranted costs."
SIGAR suggested that USAID move to recover the money it lost to IOM, and The Raw Story reports that the organization is already carrying out an audit of the project. Should it find SIGAR's findings to be true, USAID promises to "take swift action to address any problems and recover funds."
For its part, IOM is denying the report's findings. Richard Danziger, the organization's chief of mission for Afghanistan, said it would cooperate with USAID's audit but that it expects to be cleared of any wrongdoing.
Wednesday's report is just the latest from SIGAR detailing significant amounts of waste in Afghanistan. A July account revealed that nearly $50 million in taxpayer funds intended to strengthen the rule of law and promote local governments were instead spent on conferences, overhead, and workshops. SIGAR also found that a $34 million military base built in southern Afghanistan had never been used.
You can share this story on social media: