Two campus officers killed in Virginia college shooting
Suspected 'active shooter' has been arrested at Bridgewater College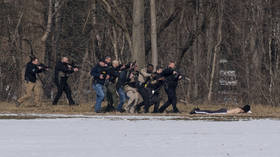 Police took one individual into custody at Bridgewater College in Bridgewater, Virginia, following a deadly shooting early on Tuesday afternoon.
The officers shot in the incident were identified as Campus Police Officer John Painter and Safety Officer J.J. Jefferson. In a letter emailed to staff and students, Bridgewater's President confirmed that both have succumbed to their injuries.
The college announced that an "active shooter" had been reported on campus around 1:24pm. Law enforcement quickly arrived on the scene, as the college instructed students to "shelter in place," warning that "this is not a test."
Around an hour after the first reports, the college announced that one individual had been taken into police custody. A photograph taken by a local reporter on the scene showed ten officers arresting the suspect at gunpoint.
Following the arrest, the college described the situation as "ongoing," and students were urged to continue sheltering as police continued their security checks through various campus buildings for another hour, until a final "all clear" notification was given.
While the college did not provide any information on the person taken into custody, Virginia Governor Glenn Youngkin identified them as "the shooter," saying that he had been briefed on the situation.
"Today our campus community experienced unspeakable tragedy. Two members of the Bridgewater College family were senselessly and violently taken from us… shot and killed on campus while protecting us," said Bridgewater College President David Bushman in a letter to students, faculty and staff.
Bridgewater College confirms Campus Safety Officer J.J. Jefferson and Campus Police Officer John Painter "were shot and killed on campus while protecting us.""These officers were close friends, known to many of us as the 'dynamic duo.'" Updates on https://t.co/I6lH1vwEogpic.twitter.com/8xXLU4KDp9

— WTVR CBS 6 Richmond (@CBS6) February 1, 2022
You can share this story on social media: