Mayor charged with multiple counts of posting revenge porn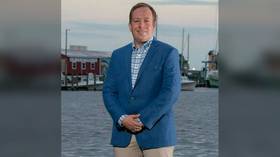 The mayor of a city in Maryland has been charged with 50 counts of distributing revenge porn after he allegedly posted intimate photos of a previous romantic partner with humiliating captions on Reddit.
Cambridge Mayor Andrew Bradshaw, 32, was arrested on Monday and charged with distributing the photos on multiple pornographic Reddit forums, or 'subreddits', without consent. If found guilty, Bradshaw could receive two years in prison and a $250,000 fine.
According to the complaint, Bradshaw made several Reddit accounts using the victim's name and date of birth, and posted the photos to humiliation and race-themed fetish forums. Bradshaw allegedly added degrading and pornographic captions to the photos, mocked the woman's weight and faith, and tried to court black men while impersonating the victim.
The victim, who is in her 20s, contacted police after discovering the photos online. She told authorities that Bradshaw was the only person who had been sent the photos while they were in a relationship and that she did not give him consent to distribute them.
Maryland's revenge porn laws prohibit the non-consensual distribution of nude photos intended to harm or intimidate a person.
State prosecutor Charlton T. Howard III called the sharing of intimate pictures online "a serious breach of trust and invasion of privacy," and said his office was "committed to protecting victims from those who abuse their positions of power and trust."
Bradshaw, who took office in January, is the youngest mayor in Cambridge history.
In a statement, the city of Cambridge said it was "aware of the matter involving the Mayor," and would "cooperate fully with the Maryland State Police and the Office of the State Prosecutor."
"As the City has a Council-Manager form of municipal government whereby the City Manager serves as the chief executive officer of the City and the head of its administrative branch, the business of the City is unaffected," the statement continued, adding that no further comments would be made due to the ongoing legal case.
Think your friends would be interested? Share this story!
You can share this story on social media: