Six teens injured in shooting in Aurora, Colorado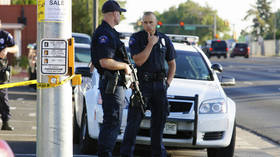 Police in Aurora, Colorado are investigating a shooting that wounded six victims ranging in age from 14 to 18, in a park close to Aurora Central High School. The shooter fled the scene.
Denver-based media reported a heavy police presence outside the school, which is just south of the Nome Street park where the shooting took place on Monday.
Aurora PD initially reported the school had been placed on lockdown, but later clarified that it was part of the "secure perimeter" instead.
Five victims of gunshot wounds were taken to area hospitals. They ranged in age between 14 and 17, the authorities said. An 18-year-old later showed up at hospital with "minor injuries."
One witness told KDVR-TV they heard "30 to 50" gunshots, and saw the kids scattering. A search for the suspect, who is "no longer at the park," is ongoing.
Nome Park has seen multiple violent crimes this year, according to KDVR, including one "gun-related aggravated assault" and three more across the street. The park was also the location of a 2019 gang-related shooting, which led to a teen being charged with attempted murder.
Aurora is a suburban community on the east side of Denver, with around 386,000 residents. Back in 2012, it was the site of a mass shooting at a movie theater during the screening of 'The Dark Knight Rises', in which 12 people were killed and 58 injured by gunfire.
Think your friends would be interested? Share this story!