#EmptyShelvesJoe trend dominates Twitter as ships back up at ports and Biden administration blames… Trump?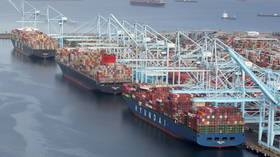 Americans appear to be growing increasingly weary of President Joe Biden's economic policies, pointing to empty shelves all over the country and snarled traffic at shipping hubs as "proof" of his administration's incompetence.
#EmptyShelvesJoe dominated Twitter's trending topics for most of Thursday as social media users raked the president and Transportation Secretary Pete Buttigieg over the coals, eviscerating their apparent inability to keep store shelves stocked even as cargo ships loaded with goods piled up along the coasts.
The hashtag has moved from social media into the real world, as someone got an airport agent to page "Empty Shelves Joe."
Photos of seemingly endless fleets of container ships along the California coast and mountains of cargo sitting in port have made the rounds on social media this week. The back-up appears to be the result of multiple overlapping problems, from labor shortages to transportation and environmental regulations, coming to a head at once.
Biden's chief of staff Ron Klain has attempted to cast the empty shelves issue as an international problem inherited from his predecessor Donald Trump, only to be told that the goods had already made it to the US and were merely sitting on the dock waiting for drivers to haul them across the country.
Klain also endorsed a Harvard professor's claim that inflation and supply-chain issues were "high class problems," triggering a hailstorm of derision.
Last week, Buttigieg told MSNBC that the White House had "set up a task force" to address the mounting supply chain problem, calling it "obviously an incredibly complicated situation" and saying the DOT is "convening all of the different players ... bringing together everyone connected to the ports."
None of that actually made a dent in the 250,000 or so containers waiting to be offloaded in US ports, or backed-up trains and overworked truckers.
In a press conference on Wednesday, Biden also tried to blame the previous administration for the country's supply-chain issues, and ordered the Port of Los Angeles to work round-the clock – without explaining how it might be staffed, or by whom – and echoed Buttigieg's argument that a massive 'Build Back Better' spending bill would solve the supply chain issues.
Also on rt.com
How Covid catastrophizing & a colossal crimewave are causing America's second Great Retail Panic
However, the $3.5 trillion proposal has so far proven unpopular with Republicans, and even some moderate Democrats, many of whom have pointed out that the money involved has little if anything to do with actual infrastructure.
Think your friends would be interested? Share this story!
You can share this story on social media: