Georgia GOP candidate for Senate cancels fundraiser organized by activist with anti-vaccine mandate 'swastika' in Twitter profile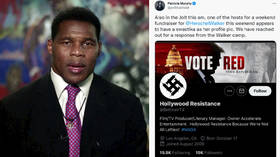 A Trump-endorsed candidate for a Georgia seat in the US Senate has canceled a fundraiser organized by a conservative film producer, who used a swastika symbol made of syringes in her Twitter profile.
Senate candidate and football legend Herschel Walker was bombarded with criticism on Wednesday after the Atlanta Journal-Constitution (AJC) published details about a fundraiser that his campaign planned to hold in Parker, Texas on the weekend. One particular point of contention was the user profile of film producer Bettina Sofia Viviano-Langlais, who organized the event. It featured symbols of syringes laid out in the shape of a swastika.
The image is used by some activists who oppose vaccine mandates as a message that forcing people to take the Covid shot is 'fascism'. Viviano-Langlais has a long history of sharing this sentiment on social media. The Walker campaign initially defended her right to use the Nazi-associated symbol, saying it was "clearly an anti-mandatory vaccination graphic."
But many people and some organizations, particularly those associated with the Democratic Party, disagreed and put pressure on Walker. According to the Jewish Democratic Council of America, the GOP "openly embraces antisemitism and denies reality." The group said the swastika symbol is "inherently antisemitic," which is perhaps debatable, considering that the Nazis adopted the symbol from Indian culture, where it is widely used today despite the negative connotations it has in the West. The Jewish Democratic Women's Salon likewise called its use "unacceptable."
The Walker campaign eventually caved in, announcing hours later that it was canceling the fundraiser, while declaring the candidate's unwavering support of Jews and the Jewish state. "Herschel is a strong friend of Israel and the Jewish community and opposes hatred and bigotry of all forms," campaign spokeswoman Mallory Blount said.
BQ: Despite the fact that the apparent intent behind the graphic was to condemn government vaccine mandates, the symbol used is very offensive and does not reflect the values of Herschel Walker or his campaign.
Georgia Democrats responded by saying it was not enough. "Herschel Walker defended a swastika, and canceling a fundraiser does not change the fact that he failed to condemn a hateful, anti-Semitic symbol," Democratic Party of Georgia spokesman Dan Gottlieb said in a statement.
Meanwhile Viviano-Langlais changed her controversial profile image to one with the words: "God bless Texas" written on the state flag. She said she did it because "a bunch of paid liberal bots" were "lying about it and trashing a black man who didn't post it."
Walker, a black man and former football star, is one of four contenders for the Republican nomination for Senate in next year's election against Democratic incumbent Raphael Warnock. Former President Donald Trump endorsed Walker in early September.
Like this story? Share it with a friend!
You can share this story on social media: